Land Rover to pilot new driving scheme for 11-17 year olds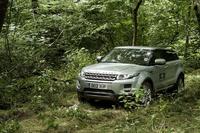 Land Rover has developed a unique new driving programme for youngsters – Start Off-Road.

The scheme allows 11-17 year olds to get behind the wheel of a Range Rover Evoque and experience true off-road driving, teaching them skills and techniques that they will go on to utilise throughout their future years both on and off road.

Participants have the chance to experience driving techniques including basics such as steering, braking and reversing, as well as more advanced skills such as climbing and descending hills, crossing ditches and ridges, negotiating ruts, wet grass and mud, and even crossing water.

Statistics show that younger drivers pick up new skills easier and are more open to learning good driving habits. By instilling the basics in them at an early stage it is hoped that they will gain invaluable experience for later in life.

Each student receives a personalised Log Book in which to record progress so that when they come again – to the same venue or another venue – they pick up where they left off.

As well as providing participants with an invaluable set of skills the course is also unique in offering youngsters the chance to experience the renowned capability of the Range Rover Evoque, lauded for both its off-road and on-road ability.

Each Range Rover Evoque is fitted with dual controls for safety as well as an automatic gearbox, and a dedicated team of instructors are on hand to take participants through every scenario. Parents can also take part in the activity.

Pilot courses are being run at four locations throughout the UK:
Chavenage House – Gloucestershire – Sunday 13th October
West London Shooting School – Middlesex – Saturday 2nd November
Duncombe Park – North Yorkshire – Sunday 29th September; Sunday 27th October; Sunday 24th November
Rockingham Castle – Leicestershire – Sunday 6th October; Sunday 10th November
Ragley Hall – Warwickshire – Saturday 19th October; Sunday 17th November

David Saunders, General Manager Land Rover Experience, commented: "The Land Rover Start Off-Road programme is designed to offer youngsters something unique that they wouldn't usually be able to experience. Not only is it a fun day out, it also teaches an invaluable skill set to youngsters before they can even obtain a license. It helps instill confidence in them, gives them a head start and should help make for proficient driving in the future."

For further details visit startoff-road.com.