Housebuilder welcomes new Scottish Government scheme to boost housing market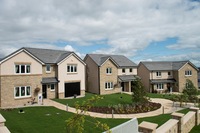 Taylor Wimpey has welcomed the Scottish Government's new Help to Buy (Scotland) housing measure which aims to help buyers across the country purchase a new home.
Andy Wyles, divisional managing director for Taylor Wimpey in Scotland, said the new measure was good news for local buyers who could not otherwise afford to buy because of the large deposits required by mortgage lenders.
He commented: "We've seen there are signs of improvement in the housing market across Scotland, and the measures announced today by Deputy First Minister Nicola Sturgeon will go a long way towards boosting confidence and encouraging more activity in the homebuilding industry.
"Initiatives such as these really do make all the difference to those who thought home ownership was well out of their reach. We are delighted that we will now be able to offer the Scottish Government backed Help to Buy (Scotland) scheme on our developments across Scotland which will help prospective buyers make the move into their dream new home.
"We've had fantastic success with previous Scottish Government schemes including MI New Home – which offers buyers increased availability of up to 95% mortgages; in fact since its launch in September 2012 a significant number of Taylor Wimpey customers have used this initiative and are now enjoying the benefits of owning a new home.
"I'm confident the new Help to Buy (Scotland) scheme will prove to be just as popular and will make a huge difference to both first and second time buyers who can afford the monthly repayments on a mortgage but not the hefty deposit."
The Help to Buy (Scotland) measures include an equity loan scheme which will be available on new build properties up to the value of £400,000, and the Scottish Government's equity stake can be repaid at any time. There is no salary cap for purchasers using the equity loan scheme, and it is available to both first time buyers and existing home owners alike. Eligible purchasers will receive a Scottish Government loan of 20%, which means that they only need to put down a 5% deposit and obtain a 75% loan-to-value mortgage.
The existing Scottish Government supported MI New Home scheme is still available on new homes up to £250,000. This scheme is open to all looking to buy a new home and means that credit-worthy buyers may now only need to save a 5% deposit before they can get on the property ladder. Home movers with limited equity in their existing home will also benefit from the increase in availability of 95% loan to value mortgages.
Andy Wyles added: "One of the many advantages of a new build property is that we can offer a variety of incentives and schemes suitable for all types of buyers. I'd urge anyone who wants to move but thinks they can't afford the deposit or are having difficulty selling their existing home to visit one of our developments today. Our experienced sales executives will be able to talk you through the options and incentives available and you could be moving into your dream home before you know it."
Taylor Wimpey currently has a number of developments across Scotland offering a wide range of homes and incentives designed to help purchasers make the move into a new home.
To find out more about the new Help to Buy (Scotland) scheme and Taylor Wimpey's extensive range of developments, or to book an online appointment at your nearest development, visit taylorwimpey.co.uk/helptobuyscotland.