Mazda CX-5 receives huge residual value boost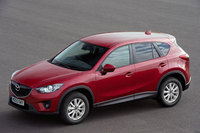 Mazda's award-winning, low-emission Mazda CX-5 compact SUV range has become even better value for money due to a residual value increase potentially delivering cash benefits of up to almost £1,600 per model for fleets.

The new figures from vehicle valuation experts at CAP Monitor mean that at three years/60,000 miles across the 20-strong CX-5 range powered by breakthrough SKYACTIV technology, models retain 38-40 percent of their P11D value. Taken in conjunction with general overall increases in CAP forecasts across the sector, that is an improvement of £1,275-£1,575 across the range compared with August 2013.

This month's residual value boost - improving its performance against key competitors at the fleet benchmark of three years/60,000 miles - will further strengthen CX-5 demand in the corporate sector.

Future vehicle valuations in the September issue of CAP Monitor increased by approximately 3 percent as a result of the introduction of the '63' registration plate. However, Mazda CX-5 has enjoyed greater than average residual value forecast increases, based on evidence of strengthening market performance in general. That, says CAP, is the most important seal of market approval overall because it represents strengthening demand for the brand from motorists in today's market.

CAP forecasting editor (cars) Jeff Knight said: "Residual values for CX-5 have increased over its nearest rivals because we have been seeing evidence for some time of a growing admiration among motorists for Mazda's offerings in this sector. It is clear that the CX-5 is increasingly the model of choice in the compact SUV sector for a growing number of buyers.

"Mazda has caught the wave of consumer appetite for economy among consumers, whatever type of car they choose, with their introduction of SKYACTIV technology, which contributes to low emissions and excellent fuel economy."

The highest percentage residual value increase is on the entry-level 2.0-litre 165ps 2WD SE-L model meaning that at three years/60,000 miles the car has a residual value of £8,650 equivalent to 40 percent of its £21,415 P11D value. The highest cash residual value increase is on the flagship 2.2-litre 175ps AWD Sport Nav Auto meaning that at three years/60,000 miles the car has a residual value of £11,225 equivalent to 38 percent of its £29,200 P11D value.

Mazda Head of Fleet Steve Tomlinson said: "Mazda CX-5 fleet sales are ahead of target, fiscal year to date, and we anticipate the residual value uplift will further strengthen demand.

"Improved residual values not only strengthen CX-5's position in the fleet market, but also in the retail sector where personal contract purchase (PCP) schemes are popular. All Mazda models are available on Contract Hire, Personal Contract Hire and PCP via our dealer network and the higher residual values will deliver lower monthly payments irrespective of the funding method the driver chooses."

Tomlinson added: "The Mazda CX-5 is a strong contender for the Mazda brand and we would expect the impact of improved residual values to have a spin-off effect across the range and further broaden fleet appeal."

The Mazda CX-5 range was the first to benefit from Mazda's breakthrough SKYACTIV suite of technologies that deliver a range of industry-leading benefits including sophisticated lightweight chassis technology, advanced engines with world-beating compression ratios and highly efficient six-speed manual and automatic transmissions.

Critically for fleets the benefits from the 2.0-litre 165ps 2WD SKYACTIV-G petrol and 2.2-litre 150ps and 175ps SKYACTIV-D diesel engines are class-leading low CO2 emissions and unmatched fuel economy - 139g/km of CO2 and 47.1mpg on the combined cycle for the petrol powerplant and from 119g/km of CO2 and 61.4mpg for the diesel units.

The Mazda CX-5 range is available with a choice of 2WD or all-wheel drive (AWD), manual and automatic transmissions and six equipment levels (SE-L, SE-L Nav, SE-L Lux and SE-L Lux Nav, Sport and Sport Nav).