Success of French Alpine engineering feat prompts an encore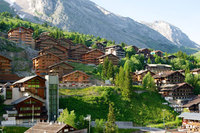 A French property developer which six years ago stunned its rivals by acquiring a near-vertical rock face on the side of a mountain in the French Alps and announcing plans to build more than 130 apartments on it is about to perform an encore.
The original development in Le Chinaillon – the ski resort forming part of the Savoyard market town of Le Grand Bornand – was an engineering feat by developer MGM which entailed the removal of thousands of tonnes of rock to create a series of terraces on which to build Le Village de Lessy, a résidence de tourisme with panoramic views of the ski slopes.
The appeal of the location and the style of the development, comprising 11 traditionally-styled chalets together containing 139 two-bedroom and three-bedroom leaseback apartments, is underlined by the fact that they all sold quickly – most of them off-plan – and all of them have been fully booked for occupation throughout the summer season.
Le Village de Lessy has been so successful that, just below it on the mountain-side, MGM is about to start work on the construction of another new résidence comprising 120 apartments overlooking the ski slopes.
The nature of this development – which takes its name from the mountain on which it is located, Le Roc des Tours – is an unusual one for MGM as the first phase entails the conversion of three redundant chalets built in the late 'sixties.
Originally used as an hotel, they are being given a new lease of life with the creation of 41 modern two-bedroom and three-bedroom apartments together with a pool, a sauna, jacuzzi, steam and fitness rooms. An OdesCimes spa and beauty centre will have a variety of massages and body treatments on offer.
The first new apartments are on schedule for completion and occupation in 2014.
A further 45 apartments will be created in phase two, an adjacent new-build development which again will entail the removal of thousands of tonnes of rock to create terraces on which five new chalet buildings can be constructed and anchored into what is currently another near-vertical cliff-face.
"We now have the proven expertise to create construction sites in locations deemed by our competitors as impossible to develop," says Richard Deans in MGM's London-based UK sales office.
Each apartment comes with secure storage facilities for skis and other personal items as well as underground car parking.
Le Roc des Tours is, in effect, an extension of Le Village de Lessy to which it is will be linked by a new pedestrian stone surface on the road which runs between them.
The new development is significant for MGM in another way; it is one of the first of its type built by the company to incorporate retail space and two bar/restaurants which will respond to growing demand from year-round visitors to the village. Included in the scheme are facilities for a ski school and ski pass office close to a new elevated pedestrian bridge over a road and a river providing level access to the nearby ski lift.
A ski hire centre and a supermarket already are incorporated within the earlier Village de Lessy development.
Together, the two new schemes – which will improve the appearance of Le Chinaillon when viewed by skiers on the slopes opposite the village – form an integral part of a master-plan drawn up eight years ago to regenerate it and stimulate the growth of its economy by creating new jobs and income of a type which will benefit the local community.
The plans for Le Roc des Tours incorporate meeting and function room facilities for hire by local organisations and businesses, at the same time adding value to the secure investments made by the buyers of the new apartments.
Adjacent to the development is the local tourism office and, in the same building, a nursery in which young children can be cared for while their parents are skiing.
Prices at Le Roc des Tours start at €338,000 for a three-bedroom duplex property of 73 sq m. Prices exclude French VAT at 19.6 per cent which is waived under the leaseback scheme.
MGM offers investors a variety of leaseback options. Typically a two-bedroom leaseback apartment comes with a guaranteed gross annual rental income of around €5,500 as well as three, four or six weeks of personal use of the property. MGM's flexible approach means that dates can be arranged to meet the requirements of clients.
For more information about the properties available from MGM at Le Roc des Tours, visit mgmfrenchproperties.com.