Volkswagen specialists helping car buyers to save thousands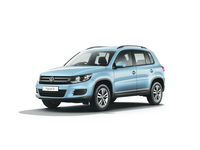 A leading Volkswagen retailer is promising savings worth thousands of pounds during a special 4x4 Fortnight.
South Hereford Garages is offering customers the chance to save up to £5,000* on a superb new Touareg between October 10th and 24th.
The Centurion Way retailer will also pay up to £2,750 towards the deposit on the stylish Volkswagen Tiguan during the same promotion.
Charlie Richards, sales director at South Hereford Garages said: "During our 4x4 Fortnight Touareg buyers will not only be able to save up to £5,000 but also benefit from a fantastic three years free servicing offer, worth up to £499, making this an unbeatable package.
"At the same time we are offering up to £2,750 towards the deposit on a new Tiguan, and free servicing on these models worth £349, when purchased using Solutions from Volkswagen Finance.
"Together, these superb offers make 4x4 Fortnight the perfect time to pick up a top-quality four-wheel drive car."
The head-turning Touareg combines a top-of-the range finish with the ability to take on serious off-road challenges.
All models come with leather upholstery, alloy wheels, climate control, cruise control, heated seats, DAB radio and parking sensors.
But despite being rugged enough to head off road without any qualms, the Touareg is also built for comfort, with the high driving position and light handling making it particularly driver-friendly.
The smaller Tiguan packs a real punch in the compact 4x4 market, combining a high-quality build and spacious interior with a smooth driving experience.
To find out more visit volkswagen.co.uk, email: tom.lyons[at]southherefordvolkswagen.co.uk.