Renault to star at London Film Festival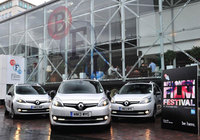 Renault will once again provide the best chauffeur-driven seats in the house at this year's London Film Festival. Stars and guests will be escorted to and from screenings around the English capital in a fleet of freshly facelifted, stylish seven-seat Grand Scénics and the French marque's all-new crossover Captur.

The fuel efficient cars combine the ultimate in sophistication and comfort with five-star safety ratings, and neither good-looker will need to shy away from the cameras.

Renault UK has supported the British Film Institute since 1995, and is extremely proud to be the Official Car Partner of the 57th BFI London Film Festival, in partnership with American Express. Among the stars expected to attend the UK's largest public film event in October are two-time Academy Award winners Tom Hanks and Emma Thompson.

Anne Marie Flynn, BFI Head of Business and Industry, said, "The BFI London Film Festival is delighted to be working with Renault as our Official Car Partner. With hundreds of festival films being shown in many different locations across London, it is so reassuring to know that Renault is enabling our festival guests to travel across the city in both comfort and style. We're thrilled and privileged to welcome them back."

This year's opening night is set for Wednesday 9th October at the Odeon Leicester Square, with the European Premiere of Sony Pictures' Captain Phillips.

The drama closes on Sunday 20th October back at the same iconic venue with the European Premiere of Disney's Saving Mr.Banks, the untold story of how one of the most beloved tales of all time, Mary Poppins, was brought to the big screen.

Renault UK & Ireland's Communications Director, Jeremy Townsend, said, "We have a very successful, long-standing association with the fantastic London Film Festival and are proud to be supporting it once again. It is such an exciting fortnight and we will be rolling out the red carpet for the actors, producers, directors and VIP guests to make sure they all arrive in elegantly at the prestigious festival venues throughout the city."

Renault's fleet will be kitted out in special edition London Film Festival decals for the duration of the event, which showcases the best of world cinema and champions creativity and originality.

The seven-seater Grand Scénic, recently updated to take in the company's new front design identity, continues to be seen by many as the benchmark MPV. While, the recently launched Captur is a chic, versatile, frugal and keenly priced addition to the compact crossover market. It makes its film role debut on the back of glory at the Next Green Car Awards – the most scientifically-based green car competition in the UK.

Festival opener Captain Phillips is directed by acclaimed Academy Award nominee Paul Greengrass (United 93, The Bourne Supremacy) and stars two-time Academy Award winner Tom Hanks (Forrest Gump, Philadelphia). It is billed as an intense, high-stakes drama, focusing on two men forced onto a collision course by global political forces much larger than themselves.

Saving Mr. Banks is directed by John Lee Hancock (The Blind Side) and stars Emma Thompson (Sense and Sensibility, The Remains of the Day, Howards End) as the London-based author of Mary Poppins, P.L. Travers, and fellow double Oscar-winner Tom Hanks (Forrest Gump, Philadelphia) as Walt Disney.

They lead a stellar international supporting cast including Colin Farrell (In Bruges), Paul Giamatti (Sideways) and Ruth Wilson (Luther).