New village homes coming soon to Marshfield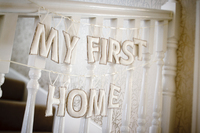 Housebuilder Charles Church has completed a brand new housing development in Marshfield, and local people are being urged to register their interest today as there are only a limited number of properties available.
The exclusive Acorn Walk development will open to the public at the beginning of November and demand is expected to be extremely high. Local people wanting to find out more, can visit the nearby Parklands Charles Church development off Queens Way in Glan Llyn.
The development consists of 19 stunning four bedroom homes and is conveniently located between the thriving cities of Newport and Cardiff.
Charles Church homes are renowned for quality and style, and the company has a reputation for the highest standards and specifications on every home it builds. The Acorn Walk development is no exception.
Sharon Robinson, sales director for Charles Church East Wales, said: "Househunters looking to purchase a new home should look no further than our Acorn Walk site which boasts 19 high quality homes, all built to the trademark Charles Church standards of craftsmanship and character.
"The village of Marshfield is an ideal location to live with easy commuting links to the M4, as well as access to some stunning areas of countryside nearby.
"Demand is expected to be high for the exclusive village development and people are being urged to hurry as these stunning properties won't be on the market for long."
In July Charles Church launched a brand new scheme to help homeowners in Wales called Help You Buy. The scheme, which is available until the end of 2013 will assist homeowners who cannot afford a large deposit to get a mortgage at an affordable interest rate.
Charles Church has a range of offers and promotions that can make it easier to purchase a dream property, including the part exchange scheme where Charles Church will arrange at least two valuations, agree a market price and buy an existing property.
Sharon continues: "If you have a home to sell then why not use the expertise and contacts at Charles Church to help you sell your current home with our Part Exchange schemes.
"We can arrange the valuations for you, agree a price and then market the property on your behalf and there are no estate agent fees and no headaches – why not contact us today to find out more."
For more information, visit charleschurch.com.