Fall for Kyoto this autumn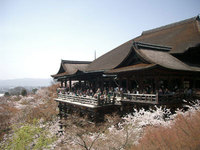 Containing 17 UNESCO World Heritage sites, over 1600 Buddhist temples, more than 400 Shinto shrines and postcard perfect landscapes, Kyoto, is undoubtedly one of Japan's most popular tourist attractions. In November, tourists congregate from around the world to witness leaves turning red, orange and yellow in some of Kyoto's finest temples, gardens and parks.
One of the best places to view stunning autumn foliage is by taking a white water boat trip down the 16 kilometres long Hozugawa River nestled along the banks of Tanba mountain range. Here one can view intriguing geologic formations and scenic mountain views ablaze with fiery reds and golden shades. The boat journey last two hours and commences in Tanba-Kameoka ending in Arashiyama in Kyoto. Another hotspot for leaf seekers is Gyoen National Gardens, the old Imperial Town, where visitors can take a romantic stroll amongst the thousands of gignko trees that erupt into a sea of golden colour in the autumn season.
However, it is worth noting that Kyoto's temples also offer amazing foliage views. Kiyomizu, one of the most famous temples in Kyoto and registering on the UNSECO World Heritage List in 1994, is located half way up the Otowa Mountain in the eastern part of Kyoto. The beauty of Kiyomizu is enhanced by the ocean of autumn tinted leaves on the numerous cherry and maple trees.
Tourists can even view the autumn colours by night with evening illuminations of fall leaves at some of Kyoto's most beautiful temples such as Chion in Temple and Shoren- In Temple where maple and camphor trees are lit up until December.
Moreover, autumn time in Japan hails some of the best festivals notably the Ohitaki Festival which is an important thanks giving festival where three large bonfires are light ablaze and 100,000 goma prayers sticks are burned. With so many things to see, Kyoto is in its prime in Autumn.
Packages to Kyoto in November/ December include:
11 Nights in Kyoto and Tokyo for a Special "Kyoto Autumn Leaves and Culture" Trip from £2395 per person.
The package includes return flights from London to Tokyo, meet and greet airport transfers in Kyoto, all transport between destinations in Japan, 3 nights' accommodation in Tokyo, one night in Mt Koya, 2 nights in Hakone and 3 nights' accommodation in Kyoto with breakfast included and 4 evening meals. It also includes 7 rail passes, Koya transport passes, Hakone transport passes and tickets for Geisha dances in Kyoto and a private afternoon tea with Zen Meditation at Kodaiji in Kyoto. To book, visit insidejapantours.com.
13 Days in Kyoto, Toyko, Nara and Nikko with a "Self Guided" Tour of Japan from £2021 per person.

The package includes 10 nights hotel accommodation and 2 nights in Ryokan with 2 dinners and 12 breakfasts included. It also includes 14 day Rail Pass & Tokyo transport pass and private guide and entrance fees on days 2 and 8 and morning of 3 and 9. To book, visit trailfinders.com.
12 nights in Japan with Much Freedom for Self-Exploration from £1850 per person.

The package includes accommodation, transfers and transport in Japan, a full time tour leader, a 14 Day Japan Rail Pass, Daily Breakfast and one evening meal. With 2 days spent in Kyoto exploring the shrines, temples, gardens, geisha and cuisine, other destinations on the tour include Tokyo, the mountain villages and markets of Nagano and Takayama, the mischievous snow monkeys at Yudanaka Onsen and one of Japan's original castles in Matsumoto. To book, visit chinalinkstravel.co.uk.
For more information on Kyoto, visit kyoto.travel.