NAC MG in the UK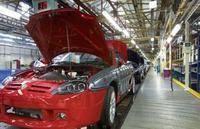 In a historic ceremony today, the media and VIP contingents from both the UK and China will witness the return of MG production to the Longbridge factory, the long-time home of this historic marque.
Guest of honour will be Mr Liang Buo Hua, Governor of the Jiangsu Province in China where NAC MG is based and Mike Whitby, leader of Birmingham City Council.
Earlier today, Solicitor General Mike O'Brien, MP visited Longbridge, and personally handed over a letter of support from Deputy Prime Minister, John Prescott, on behalf of the British Government. Mr O'Brien met senior officials from NAC in the UK and China, as well as Mr Liang Buo Hua.
Since acquiring the assets of MGR Group in 2005, NAC has been devoted to developing the MG brand and MG products, initially in China and Britain.
In only one year NAC completed the construction of a huge, modern production facility in Nanjing and had its first MG cars rolling off the assembly line on 27th March 2007 – which was also the date of the 60th anniversary of the company. NAC is also proud to have won the award for the 'most attractive car' at the Shanghai Motor Show held in April 2007.
In the UK, NAC has been hard at work at the Longbridge plant; the production lines have been modified to allow the recommencement of manufacturing; a highly experienced management, engineering and production team is now in place, ready to re-launch MG into the marketplace later this year, initially with the famous TF sports car.
Longbridge is an essential part of the MG project. NAC fully understands that they need to keep the originality and Britishness of the brand and the UK is the only place where NAC can absorb the essence of British culture and transfer it into MG products.
The role of Longbridge will be as follows:
R&D centre for MG
Engineering & testing of MG models
HR recruiting for China and Longbridge
A purchasing and logistics centre for China and Longbridge
Manufacturing base for the UK and European markets
Sales & marketing base for the UK and Europe
Today's event is the next crucial stage in NAC MG's ambitious development strategy. "We realised from the outset of this project that retaining a manufacturing link with the UK is of fundamental importance," says Yu Jian Wei, CEO of NAC. "Longbridge will play a leading role in our European operation and the plant is now in a position to commence TF production for the UK market. This is a very exciting time for MG and it's an important boost to the economy of the Midlands manufacturing region."
Mike Whitby, Leader of Birmingham City Council said: "Longbridge is part of the fabric of Birmingham's heritage and we are delighted that MG's will roll off the production line once again. "We have worked in close collaboration with NAC to bring about today's announcement. Two years ago, many people thought this day would never come. But as we celebrate a new era for Longbridge, I am delighted that NAC MG will breathe new life into this famous marque.
"This clearly shows Birmingham making the most of international investment, and I am proud of the part the City Council has played to bring it about."
About Nanjing Automobile (Group) Corporation (NAC)
Nanjing Automobile (Group) Corporation (NAC) is the oldest, and one of the largest manufacturers making up the backbone of the motor industry in China. Following its establishment in 1947, it successfully produced the first international standard light truck in China on 10th March 1958.
Today, NAC has 32 subsidiary companies and more than 400 affiliated companies, including NAC-MG, Nanjing-Yuejin, Nanjing-FIAT, and Nanjing-IVECO, four whole vehicle companies which produce three series of products, over 400 types of vehicles (excluding MG). Apart from the production of whole units, NAC owns companies which produce automotive components including chassis, brakes, gears & transmissions, in addition to a business providing foundry and metalworking services and vehicle equipment.
In July 2005, NAC successfully purchased parts of MG as part of an international strategy. After its successful acquisition of MG assets in 2005, NAC has gained a higher status in the automotive industry, and support from Chinese national government, the Jiangsu provincial government as well as Nanjing municipal government.
NAC's mission is to "revive, maintain and develop MG" for the benefit of both Chinese and global consumers, and plans to produce and sell MG cars in the UK as well as in China. NAC has undertaken to "carve out, innovate, strive to be the best and create an iconic brand" with MG.