MG production returns to Longbridge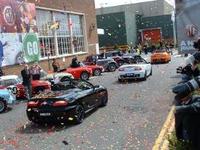 Members of the MG Owners' Club celebrate the re-birth of our favourite marque. MG seemed doomed to extinction but the Nanjing Automobile Company (NAC) bought the assets and the tooling and began manufacturing MG sports cars and MG saloons for the fast growing Chinese market in March 2007. NAC also promised to re-introduce manufacturing of MGs again at Longbridge and they have been true to their word.
Owners of the later MGs, namely the MG TF and the Z range of MG saloons welcome continuity of their models, parts and factory support. It is likely that second hand values of the modern MGs will improve.
The MG Owners' Club and NAC enjoy a very friendly relationship and NAC executives and staff have liaised with the MGOC for some time and helped to ensure that the new MGs and future models in the planning are true to the tradition and concept of MG. MG Owners' Club members proudly displayed fine examples of historic and classic models at the Longbridge celebrations launching the new MGs in pre-production. We look forward to the volume production in the near future.