New MG TF wows the crowds at Silverstone International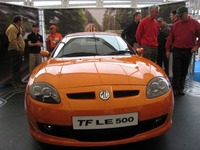 Visitors to the 57th MG International Race meeting at the weekend were treated to the first public appearance of the new MG TF sports car.
The Longbridge built sports car took pride of place at the 57th annual MG Car Club celebration, which is world's largest gathering of MG cars spanning over 80 years of the marque's history.
The new TF, which is due to go into production later this year, features numerous new engineering innovations and cosmetic changes that will make the car a truly desirable proposition when it appears in showrooms.
"The public response to the new TF has been fantastic," says Gary Hagen, Sales & Marketing Director for NAC MG (UK) Ltd. "This car represents a fresh new addition to the UK sports car market, and judging by the reaction at Silverstone over the weekend this car looks set to enjoy a healthy sales success here in the UK."
NAC MG personnel were on hand over the weekend to answer questions from enthusiasts eager to learn more about the new TF. "This car has undergone extensive re-engineering and it is a very different proposition from the previous generation TF," says Hagen. "From the outset our objective was to produce a highly desirable sports car that offers performance, fun, reliability and value for money in equal measure. This is a demanding market and the British public will not be disappointed."
Silverstone International is the highlight of the MG racing season and this year attracted 550 race entries – and broke all previous records in the process. The racing covered all eras of the brand's long history, whilst the headline MG Trophy race for MG TF and ZR models, won by Malcolm Gammons, was sponsored by Nanjing Automobile Corporation (NAC) for the first time since buying MG in 2005.
"We are delighted that NAC MG (UK) chose to debut the new TF at this event," says Richard Jones from the MG Car Club. "It's great to know that NAC understands the importance that enthusiasts will continue to play in the future success of the MG brand."