Magical West Country Christmas Markets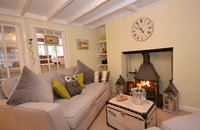 Christmas in the West Country is a magical time to visit with the beautiful scenery often dusted with snow. Christmas parades and markets spring up across the region crammed with stalls selling unusual Christmas gifts, along with spectacular entertainment and a chance to sample local produce. Combine this with a break in one of Toad Hall Cottages cosy properties over the Christmas period and you'll come away full of Christmas cheer.
Christmas starts early in Cornwall with the 'Truro City of Lights' festival on 20th November. One of the most anticipated events in the region, the start of the festive season is heralded with a dazzling procession of hundreds of huge handmade willow and tissue lanterns shaped into amazing figures and animals. There is a real carnival atmosphere with vivid costumes, samba and music from brass bands and drummers. In advance of the procession there are festivities throughout the town with gift and food stalls and performances at various locations. Stay with Toad Hall Cottages at Swallows Cottage in the nearby village of Mitchell. Part of a grade II listed barn this cosy cottage with pretty garden is just a short drive from the festivities in Truro and also the dramatic scenery of the North Cornwall coast. Sleeps 4, from £214 for a 3 night short break in November or December, pets welcome.
The bohemian market town of Totnes in South Devon holds a Christmas Night Market on Tuesday evenings in the run up to Christmas (3rd , 10th, 17th December). Hundreds of stalls line the steep high street and cram into the market square selling unique eco and fair-trade gifts that the town is famous for, as well as delicious local food and mulled cider. The town's historic buildings are decorated with lights and there are performances from local schools, choirs and bands which all add to the festive feel of this fantastic event. Stay at Yew Tree Cottage in the nearby village of Broadhempston, this cosy cottage with large fireplace and woodburner is also perfectly placed for bracing winter walks on Dartmoor. Sleeps 2, pets welcome, from £245 for a 3 night break in December.
Candlelit Dartmouth takes place over two nights at the beginning of December (December 6th and 7th). This beautiful port at the mouth of the River Dart comes alight with candles in windows of the houses, shops and galleries that line the town's winding streets. There is late night shopping, street stalls and carol singing culminating in a procession of willow and paper lanterns through the streets and Father Christmas himself arrives by boat ! Stay in the heart of Dartmouth at 7 Mayflower Court, a stylish apartment overlooking the harbour. Sleeps 4, from £252 for a 3 night break in December. Or just outside Dartmouth stay at Higher Cotterbury Cottage, a pretty traditional Devon cottage, deep in the South Hams countryside. Sleeps 4, from £215 for a 3 night break in December, pets welcome.
Another popular market is the Polperro Christmas Market on Saturday 7th December. Visitors to this picturesque fishing village, well known for its idyllic location on the South Cornwall coast, can wander round the market stalls selling crafts and handmade Christmas decorations, sampling mince pies and mulled wine and listening to the carol singers. Polperro is made up of tightly packed old fisherman's cottages in a maze of narrow cobbled streets on the hillsides overlooking the pretty harbour and is a great place to get away from it all for Christmas. Stay at Glencoe Cottage overlooking the River Pol from £234 for a 3 night break in December, sleeps 5. Or the immaculate and beautifully decorated Nepenthe overlooking the harbour, from £318 for a 3 night break in December, sleeps 4.
For further information, visit toadhallcottages.co.uk.