How to be the best housemate at uni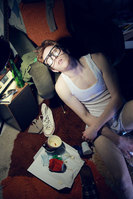 It's a few weeks into your first term at university, and there's no doubt you're loving every minute of it.
Being away from home is amazing (sorry mum), the nightlife is great, and your accommodation with a difference is living up to your high expectations. But whether you're in London, Liverpool or Lancaster, it can be easy to get carried away with the jager bomb train. So here are some tips to ensure you stay the best housemate at uni ever, whilst still having the time of your life.
Sharing is caring
Ok, so no one likes to share, but no one likes the person who won't even more. After doing the whole IKEA shop, it can be a teeny bit frustrating if your flatmate practically always has baked beans in one of your saucepans, but as long as they don't take the mick, just go with it. Same goes for if you are the one doing a lot of borrowing – look after peoples' stuff. You don't have to be a kitchen martyr; just be nice and respectful and make your Nan proud.
Keep it down
At the risk of sounding like a grumpy man on a bus, try to keep noise down especially when you know your flatmates have work to do/aren't well/are sleeping. Everyone loves having fun, but occasionally at uni you'll have the odd essay to do, and it will be a heck of a lot harder to get it done with your 'killah beatz' next door.
Pay your way
You're all poor, so contributions to things like milk, washing up liquid and loo roll should be fair. There are plenty of ways to organise this, such as rotas or having a money pot. Don't be that guy who swears they'll 'sort you out' next month.
Make an effort
If it's 5pm and you've just fell through the door after all-day-lectures, to see your housemates who have all had the day off so are sitting in their pjs playing GTA, having a chat with might not sound like top priority. However, try and make an effort, or at least stick the kettle on. Also good to try extra hard with the flatmate who's a bit more shy and reserved. It's nice to be nice, after all.
Clean it up
Remember all those times your mum was tearing her hair out as you left trails of destruction everywhere you went. This can easily be avoided if you pick up the Hoover now and again, and wash up after yourself. Break the student stereotype and live in a nice, clean pad. Your mum won't know what to do with herself when she visits.