Website helps owners identify and locate nearest service specialist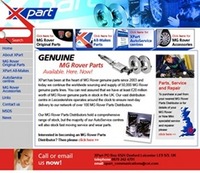 MG Rover and New Mini owners can now find details of their nearest specialist XPart service and repair provider more easily than ever before, following the launch of an expanded and updated website, xpart.com . The site's improved design incorporates a new centre locator, which allows visitors to search for their nearest MG Rover specialist, New Mini specialist, or MG Rover parts distributor. Once identified, the site provides comprehensive directions and maps.
"With programmes such as servicing of New Mini's, XPart now has a much wider offering than its original MG Rover service and repair," explains Don Lindsay, service marketing manager, XPart. "The new website reflects these developments and ensures that visitors know about all of the services available and can easily locate their nearest provider."
XPart's AutoService centre network has been established for three years and provides high-quality servicing at competitive aftermarket rates. Garages receive technical support and ongoing data from XPart ensuring they can continue to service vehicles in an efficient and effective manner. Parts are received daily from one of XPart's 110 MG Rover parts distributors who receive overnight deliveries from its central distribution centre which houses a parts inventory in excess of £20 million.
As well as giving the locations of its 240 AutoService centres, the new website also provides details of XPart's 110 MG Rover parts distributors. The distributors continue to offer 'genuine' MG Rover parts to owners who wish to purchase parts directly and then carry out repairs themselves.
XPart is a wholly owned subsidiary of Caterpillar Logistics Services UK Limited, one of the automotive industry's leading supply chain management companies. It has established a network of more than 240 XPart AutoService centres across the UK, providing franchise-quality repair at aftermarket rates. Its product range contains more than 35,000 parts for all makes of vehicle and since 2001 it has been responsible for the supply of genuine MG Rover parts (xpart.com).