High quality parts support for new MG owners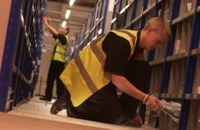 Owners of new MG-TFs can look forward to high-quality aftersales support, following an agreement between NAC MG UK Ltd and Caterpillar Logistics Services (UK) Ltd. The deal will see XPart, a subsidiary of Caterpillar Logistics Services, manage the supply and distribution of genuine replacement parts for the new MG TF cars to NAC MG's network of 55 new UK dealers.
"Supporting owners of new MGs with a high-quality aftersales parts programme is another major milestone in the re-introduction of the MG brand across Europe," comments Jack Safiruddin, aftersales manager, NAC MG. "It is essential that we have a reliable and robust parts distribution programme in place to support owners of our new car. In the unfortunate event of an accident or a component failure, owners and garages will have fast access to replacement parts. With its experience in the distribution of MG parts and the management of high-quality service schemes, XPart is the ideal partner for this critical element of our business."
As the historic supplier of MG parts, XPart has managed the supply of MG parts and dealer-fit accessories since 2001. Stock of replacement parts for new MGs will be held at XPart's 60,000m2 distribution centre in Leicestershire. The company will hold NAC MG stock alongside its existing £20 million parts inventory. Parts will be supplied to MG dealers through XPart's established wholesaler network giving NAC MG a professional and easily managed parts programme from the outset.
"New MG owners can expect to receive standards of support equivalent to that provided by the world's best vehicle manufacturers," says Craig Cooper, general manager, XPart. "Our excellent geographic coverage means that we can get replacement parts to the new MG dealer network in a speedy manner, ensuring repairs can be made in minimal time."
NAC MG has already announced the names of 55 MG dealers who expect to start selling the new model in mid-September. To support these new vehicles XPart is already stocking replacement parts.
XPart (xpart.com) is a wholly owned subsidiary of Caterpillar Logistics Services UK Limited, one of the automotive industry's leading supply chain management companies. It has established a network of more than 250 XPart AutoService centres (xpartautoservicecentre.com) across the UK, providing franchise-quality repair at aftermarket rates. Its product range contains more than 40,000 parts for MG and Rover vehicles and 35,000 parts for all-makes of vehicle and since 2001, it has been responsible for the supply of genuine MG and Rover parts.