A tale of two biking systems: Bike-share versus Bike and Roll Rentals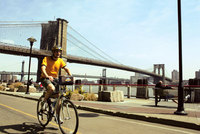 As bike-share systems continue to debut in cities across the United States, the dynamics of choice between bike-share and traditional bike rentals is more relevant. In markets with both offerings, which include New York City, Washington D.C., Chicago, Miami and San Francisco, there continues to be ongoing customer confusion about making the correct choice. The right choice will save the user time, money and ensure a better overall biking experience.
Bike and Roll, the nation's premier bike tour and bike rental operators, now provides discerning riders an easy way to compare the two systems based on intended use with easy to read comparison charts at kiosks in all regional markets, outlining the primary differences between the two systems.
"The two systems serve very different purposes and the key distinctions involve pricing, packaged accessories, the length of a rental, the intended customer base and the bicycles themselves," said Darryll White, Co-Founder and Co-Owner of Bike and Roll. "Our goal is to familiarize the cycling public on the differences so potential customers understand how each system works and can therefore decide which product meets their needs."
Comparing Some Key Features:
Best Serves
Bike-Share best serves the commuting public when use is intended for no longer than 30 minutes to an hour (depending on the city), while also providing brief one-way rides between connecting modes of transportation. Bike-share is designed to reduce auto traffic and subsequently reduce the carbon footprint of these urban areas.
Bike and Roll best serves the leisurely and recreational rider, typically a tourist that is looking to explore a new city and all the sights and sounds it has to offer. Also intended for longer term rides, typically over 2+ hours. Bike and Roll's mission involves providing a fun, safe and economical way to best explore the urban area.
Pricing
Bike-Share, use is typically very low cost for the first hour or less, but becomes significantly more expensive after that time period. For example, in New York City, a one-day pass with Citi Bike is $9.95 for the first 30 minutes free. The price, including usage fees increases to $35 for a two-hour rental, $131 for six hours, etc.
Bike and Roll, rental equipment use typically becomes a better bargain after one hour. For example, in New York City, the standard bike rental price starts at $14 per hour. After the first hour, the rental costs $28 for a two-hours and $44 for a full-day rental.
Equipment
Bike-Share only includes the bike itself (helmet typically not included), which is one-size-fits-all, weighs nearly twice as much as a typical bike and includes only a few gears.
Bike and Roll offers variety in terms of available biking and rental equipment catering to all ages. In addition, Bike and Roll rentals include locks, helmets and other necessary safety equipment along with maps for each city.
Minimum age requirement,
Bike-Share systems typically restrict use to those 16-years-of-age or older.
Bike and Roll will allow use by children with legal guardian supervision.
Note: Bike and Roll provides the helmets required by law for use by minors whereas Bike-Share can not.
Customer Service
Bike-Share docking stations are all unmanned and available 24/7. Docking stations have a tendency to fill up or be completely empty during peak commuter hours.
Bike and Roll stations are always staffed, offering guided bike tours, specialty routes, self-guided tours and ongoing deals and discounts at various attractions. Bike and Roll typically opens daily at 8 a.m. with seasonal closing hours based on location. Bike and Roll stocks inventory in order to avoid equipment shortages, but participants are urged to call and reserve in advance, especially during peak weekends.
Accessibility
Bike-Share typically consists of multiple docking stations and many bicycles. For example, there are 325 bike-share stations with 6,000 bikes in New York City.
Bike and Roll NYC has 11 rental kiosks with 2,000 bikes.
Given the highlighted differences, if the potential cyclist is looking for a short trip, over flat terrain, with docking accessibility and longer operating hours, Bike-Share is the recommended choice. However, if the potential cyclist is looking for a more recreational and tourism-related experience with increased equipment and rental options for all ages, along with personal customer service, including guided tours, and more cost effective value for longer use periods, then Bike and Roll is the recommended choice.
The two systems are intended to complement each other based on a user's intentions, and in the New York City and Washington D.C. markets, Bike and Roll collaborates with Bike-Share on several key events and initiatives over the course of a year, including helmet rental partnerships in both cities. For more on Bike and Roll, visit bikeandroll.com.