MG announces participation in scrappage scheme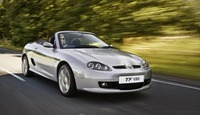 MG Motor UK Ltd is delighted to announce its participation in the new Car and Van scrappage scheme announced by the Government in the recent budget. Launching across the UK on 18th May, qualifying customers can expect a reduction of £2,000 against the list price of a brand new MG TF under the scheme with £1,000 coming from the Government matched by £1,000 from MG Motor UK Limited directly.
Customers will be able to take advantage of the scheme when purchasing the existing model, the top of the range MGTF LE500, which will be available under the scheme for a very competitive £14,055and later this summer, a unique MG which is being launched to mark the 85th Anniversary of the MG brand. The MGTF 85th Anniversary will be a great looking and fantastic handling car. Available in three special colours overlaid with striking graphics and a new design of alloy wheel, from the outside it looks fantastic.
Inside it's stunning too as the specialist graphics continue, matched with a new stylish leather trim and a high quality ICE system. The 85th Anniversary model also benefits from a ride and handling package that's tuned to make this car unique to drive as well as to look at.
The greatly anticipated MGTF 135 will also launch shortly and is sure to appeal, especially when combined with a promising summer and the great levels of trim and equipment on the TF 135 means MG are expecting this new model to sell well.
Jack Safiruddin, Sales & Aftersales Operations Manager for MG, said: "This initiative could not have launched at a better time for us. With summer kicking in and two new cars about to join the successful MGTF LE500, this scheme makes the next few months a very tempting time to get the new sports car you have always wanted."
Full details of the scrappage scheme, how to qualify for it and all the information on existing and new model MG cars are available at mgmotor.co.uk. You'll also find dealer details and information on how to book a test drive.