Two new MGs for Spring & Summer 2009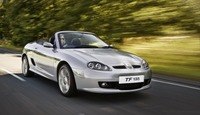 This summer, two new MGs are being launched to join the highly successful MG TF LE500; the affordable MG TF 135 and a unique new MG that is being produced to mark the 85th Anniversary of the brand, the MG TF 85th Anniversary.
Jack Safiruddin, Sales & Aftersales Operations Manager for MG, said: "With summer kicking in, the launch of two new cars and our recent scrappage announcement regarding a £2,000 reduction on the price of a new MG, the next few months will be a very tempting time for customers to get the new sports car they have always wanted."
New Entry Level MG TF 135
The greatly anticipated MG TF 135 will be launched shortly and is sure to appeal to motorists who want sports car fun at a highly competitive price. Good levels of trim and equipment including a Clarion ICE system, combine with a price tag that will broaden its appeal and bring it within the budget of many more people. The TF 135 will hit showrooms shortly, offering all the fun and appeal of a convertible sports car at a highly affordable £13,511 OTR.
Unique Anniversary Car
Later this summer, a unique MG TF is being launched to mark the 85th Anniversary of the MG brand. The MGTF 85th Anniversary will be a great looking car with fantastic handling.
Available in three special colours overlaid with striking graphics and a new design of alloy wheel, from the outside the car looks sensational. The cabin is stunning too as the specialist graphics continue with monogrammed sill finishers and gear knob which complement new stylish Aubergine leather trim and a high quality ICE system.
Apart from the stunning look, the new TF 85th Anniversary model also benefits from a ride and handling package that's tuned to make this car unique to drive. Bilstein suspension, Eibach anti roll system, lower ride height, an all new anti torsion pack and a modified wheel set up on Rimstock 'Twisted Pepper' style wheels give the 85th Anniversary edition a grown up feel and very precise handling at high speeds.
Jack Safiruddin, continued, "The TF 85th is a real driver's car and is an extremely appropriate model to mark the anniversary of an iconic brand like MG. The combination of looks and handling will appeal to enthusiasts and prospective new customers alike."
This car will be launched at £15,664 on the road which, again, after the Government's scrappage scheme deduction will make the TF 85th a competitive £13,664.
The New MG Family
With the fully loaded and highly specified MG TF LE500, the extremely affordable MG TF 135 and the tightly handling MG 85th Anniversary, MG now offers a family of cars that give existing owners looking for something new, as well as prospective customers who just want to enjoy British mid engined, top down sports car driving, some real choices.