Tria Hair Removal Laser 4X: Professional technology for permanent results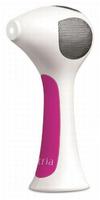 The Hair Removal Laser 4X is Tria Beauty's latest innovation in its line of professional quality, at-home laser hair removal solutions. This newest model is Tria's best hair removal laser yet. Proven through dermatologist-led clinical studies, the Tria Hair Removal Laser 4X delivers up to 70% hair reduction just three weeks after the second treatment. With permanent results realised in as few as three months, the Tria Laser 4X is the most effective solution available for at-home permanent hair reduction.
The Tria Hair Removal Laser 4X delivers professional results in the privacy and comfort of your home using technology only previously available in professional salon treatments, and at a fraction of the cost. This is the only clinically proven at-home hair removal laser featuring a patented diode laser-technology preferred by nine out of 10 dermatologists. Designed to be even easier to use than previous models, the Tria Laser 4X features a new and exclusive Pulse Counter and treatment guide, enabling more confident and accurate treatments and delivering better results in a shorter time period.
How does it work?
Tria Hair Removal Laser 4X uses professional strength diode laser technology to target and disable the hair follicle for permanent results. Once disabled, the hair follicle loses its ability to regrow hair and eventually falls out, leaving behind only smooth, silky skin. For optimal results, the Tria Laser 4X should be used every other week for three months at the highest setting that you can tolerate, and in just 12 weeks, you could enjoy permanent freedom from the endless rigours of waxing and shaving.
The quick and easy to use handheld, cordless device can be used safely on the face and body to achieve permanent hair reduction from head to toe. The Tria Laser 4X is suitable for use on those with light to medium skin tones and dark hair. The device features an automatic sensor to prohibit use on incompatible skin types and has been designed to unlock only after the safety check has been carried out.
The Tria Hair Removal Laser 4X retails for £375.
To enhance your Tria Laser 4X experience , Tria SmoothStart Calming Gel comforts and cools skin prior to using the Tria Hair Removal Laser, helping you to treat at a higher intensity to encourage the fastest results possible. RRP £25.
Available at triabeauty.co.uk, Space.NK, Harrods, Selfridges, Harvey Nichols and amazon.co.uk.