Urbanista - For every street smart fashionista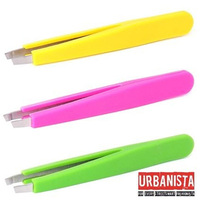 Introducing new and exciting beauty brand Urbanista, the go to brand for every street smart fashionista.
Designed and created by a fashionista for all those Urbanista's with a natural flair for beauty & a fashionable finger on the pulse. Aimed at teh shrewd but not snobbish, the clever but never conceited.
Urbanista has been inspired by people who have the panache to sniff out the best trends, beauty tools, and hotspots and those who are living the 'insiders beauty guide' to the city.
The innovative Urbanista collection launches with a selection of beauty tools with a vibrant twist; make-up brushes, hairbrushes, clippers, nail files, nail foils and tweezers.
The products are stylishly designed for comfort and precision, encapsulated in lavishly bright colours. The products will most definately refresh & revitalise anyone's make-up bag. And with fun and quirky names such as 'Cliping Eck!' and 'Plucking Genius' they are bound to bring a smile to your face.
These stunning beauty tools start at £2.99 and available online at clickhealthandbeauty.co.uk.