Horseback safaris on Dartmoor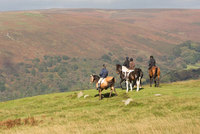 Do you dream of fulfilling your inner cowboy and riding Western style against a backdrop of stunning landscapes? Would you like to get away from it all and share a few days with friends experiencing together riding across inspiring landscapes. Or would you like to indulge in ultimate luxury combining staying in a world-renowned hotel with day or half day long rides across breath taking scenery?
Liberty Trails horseback safaris provides all the answers for unique and unforgettable experiences and they are available here in the UK.
Liberty Trails is based on Dartmoor, widely regarded as England's last remaining wilderness, where there is acre upon acre of space, peace and solitude dotted with dramatic tors, winding streams and ancient woodlands. Ride out onto the moors and you could be in America with its awe-inspiring vast open spaces.
Few people have experienced the high moors, where cattle graze in the summer, or wandered the ancient tracks which lead to simply breath taking parts of the moor which are abundant in their beauty, but at Liberty Trails riders can enjoy this space, peace and solitude.
Proprietor Elaine Prior said: "I have lived on Dartmoor for most of my life and it is breathtaking in its beauty. It is most extraordinary country with incredible light, amazing sunrises and sunsets. There's such an abundance of natural beauty and its here, in England, right on our doorsteps. If you can jump on a horse and enjoy a sedate canter and you'd like to combine this with staying in delightful accommodation then a trip to Devon to experience this is a must."
Liberty Trails guided riding trails are already famed, and its bespoke holidays are providing another pull for equine enthusiasts with the desire for a memorable break in stunning surroundings with horses for company.
There are three very different holiday options, catering for different budgets, and with each, guests can either bring their own horses or ride horses which will be provided, and all are for three nights stays with two full days riding across the moors.
The first option is Horse Safari Party when friends can gather in a holiday cottage with two days of unforgettable guided riding on Dartmoor and the exclusive use of high quality stables. They can relax in the evenings and enjoy a private supper party with food freshly prepared and help themselves to the breakfast bar in the mornings before heading off on a ride.
The second options allows guests to opt ride Western style across the moors. The price starts from £450 and is based on four people sharing the cottage.
The third option is considered the ultimate Dartmoor experience and involved three nights at the renowned Gidleigh Park hotel. Gidleigh Park is home to the much loved two Michelin starred celebrity chef Michael Caines MBE and offers one of the finest dining experiences in the UK. Staying there is also a five star experience of exceptional luxury.
At the end of each day's ride guests will be taken back to Gidleigh Park to enjoy three different dining experiences including a light supper, à la carte dinner and the acclaimed eight– course signature menu.
Prices for the three night stay for two people start from £4,030. The package also includes early morning tea or coffee, newspapers in your room and cooked or continental breakfasts and full afternoon tea on arrival.
Each break is tailor made to suit the individual, whether it be the Horse Safari Party or the Ultimate Dartmoor Experience. Whatever the option memories that will last a lifetime are a certainty.
More details about Liberty Trails can be found at libertytrails.com.