A winter wonderland all of your own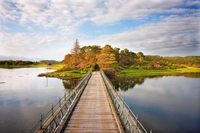 The stunning 5 star Isle of Eriska Hotel, Spa and Island is located just off the West Coast Highlands of Scotland, a two hour drive from Glasgow. The hotel is delighted to announce their brand new self-catering winter breaks where guests are invited to the beautiful private island to stay in Arnott's House; a beachside property that comes complete with a private outdoor hot tub and romantic views overlooking Loch Creran with the Highlands in the distance.
Arnott's House provides complete seclusion from the outside world. Guests are able to completely switch themselves off and tune in with the natural surroundings with long strolls along the untouched beach that lies just 50 metres away, and time to relax in the hot tub with a glass of wine in hand making the most of the unique experience of being in their own private island.
The island is inhabited by countless species of animals such as wild otters, seals, red deer, and herons. Occasionally guests are even lucky enough to see a whale swimming off the shore or an eagle fly over head. Such is the magic of the island. Visitors can make the most of the island's facilities such as the complimentary 9-hole golf course, heated indoor pool, sauna, and steam room or for ultimate serenity, enjoy a heavenly treatment in the ESPA Spa.
Special activities such as kayaking, whiskey tasting and clay pigeon shooting can be arranged on request. Or why not board a private speed boat and cruise through the sea to visit some famous sites from the Bond movies?

In the evenings visitors can light some candles and cook for themselves with complete privacy; or if they wish they can head to the main house for a gastronomic dinner where they will be waited on hand and foot with food cooked up by Michelin starred chef Ross Stovold. Here guests can expect to find a variety of starters and main courses, with one fish from the surrounding waters, a meat dish from the hills surrounding the island and a final vegetarian alternative inspired by one of the gardens or larders close to hand. The hotel is also famed for its' extensive wine list, and very special Farmhouse Cheese Trolley.
Easily accessible from Oban, Connel Airport, Glasgow and Edinburgh, guests can arrive by car, boat, or even aboard a private sea plane from Glasgow Airport!
The self-catering Arnott's House winter breaks offer an opportunity to discover the Isle of Eriska like never before, with complete privacy and seclusion from the other guests on the island. Rates start at a very competitive price of from £200 per room per night with a minimum two night stay and a special rate of £900 for 7 nights. The house can also be rented on a two or three bedroom basis for larger parties.
For more information, visit eriska-hotel.co.uk.