Up to 4,600 miles' worth of free fuel on selected new Vauxhalls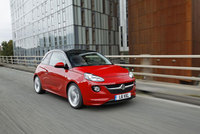 Vauxhall customers can benefit from £500 free fuel on selected new cars and commercial vehicles* this weekend, equal to over 4,600 miles in a Vauxhall ADAM**.

Available between Friday 15th and Monday 18th November, the £500 free fuel offer is available on a wide range of Vauxhall cars sold during the event weekend, including the new Insignia, the funky ADAM and the full-size Cascada convertible.

Plus the saving can also be combined with Vauxhall's existing range of offers, further helping customers to reduce the cost of motoring when buying a new vehicle.

Added extras

In addition to the free fuel offer, new car customers can also receive a discount of 20 per cent off genuine Vauxhall accessories, as well as taking advantage of Vauxhall's innovative 0 per cent APR Flexible Finance scheme.

Selected Vauxhall Corsa and ADAM models come with one year's free insurance for drivers aged between 21 and 75† while all new Vauxhall cars come with a warranty which could last a lifetime, so customers can be confident that they are getting the best possible aftercare and service too.

Available to the first owner of all new Vauxhall cars, the warranty is valid for the lifetime of the vehicle up to a maximum of 100,000 miles.

*£500 including VAT Free Fuel offer applies to car or commercial vehicle orders placed between 15th and 18th November 2013. Exclusions, terms and conditions apply.

** Estimation based on ADAM 1.2 ecoFLEX Start/Stop model achieving 56.5mpg combined on 95RON unleaded fuel at £1.329 per gallon.

†Not available on ADAM models purchased on Flexible Finance. Terms, conditions and exclusions apply.