New Year retreat kick-starts La Manga Club 2014 fitness breaks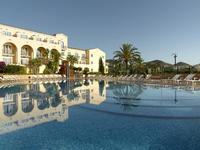 Losing weight can be a daunting prospect but Spain's La Manga Club is offering the ideal solution to help get a new fitness regime underway with a wide array of enjoyable health breaks for 2014 - and prices starting from only £495 per person.
Europe's top sports and leisure destination in Murcia, south-east Spain, will again be at the forefront of helping people fulfil their new years' resolutions as it hosts a series of specialist courses and retreats over the next 12 months.
And guests can hit the ground running next month with the opportunity to see in the new year as part of a new all-inclusive camp organised by Fitness 12, one of a number of luxury breaks being staged by the independent fitness experts at La Manga Club in 2014.
Focusing on fitness, detox, triathlon and cycling, the retreats offer expert coaching and nutritional advice throughout, and launching the 2014 schedule is Fitness 12's New Year Fitness Kick Start camp from December 28 until January 4 - with a £400 saving for couples or friends sharing accommodation on prices starting from £1,895 per person.
Hosted by company director and international fitness personality Steve Halsall, the week-long package includes a seven-night stay in La Manga Club's five-star Hotel Principe Felipe, three coordinated workouts per day - including cardio, weights, yoga, cycling and PT - and a New Year's Eve gala dinner.
In addition, all food and soft drinks, complimentary gym and spa access - with 10 per cent off treatments - are also included, together with airport transfers from Alicante or Murcia.
Fitness 12 retreats, which are suitable for adults of all ages, offer bespoke fitness packages involving a consultation with Halsall, after which a tailor-made programme is then developed and executed on the retreat.
Combining the comfort of La Manga Club, all breaks feature three exercise sessions per day with nutritionally balanced meals prepared by its private chef, and spa fitness retreats are scheduled to take place on February 20-24, March 20-24 and April 17-21.
Fans of triathlon, Britain's fastest growing sport, can improve their skills by taking part in two week-long camps from April 5-12 and April 26 to May 3, while Fitness 12 is also running a women-only cycling weekend from April 17-20 for female riders of all abilities, with places available from £495 per person.
In addition to the Fitness 12 packages, TV fitness guru Joanna Hall will also be returning to La Manga Club in 2014 to host her popular Walkactive training camps, with the first one taking place from April 24-28.
Perfect for all ages and fitness levels, the breaks focus on her unique walking techniques which ensure correct postural alignment, the programmes can have a big effect in improving posture, reducing joint impact, increasing fitness and changing body shape.
La Manga Club is an ideal venue for fitness training at any time of year with extensive facilities, including a large comprehensively equipped gym and 25-metre indoor pool.
The nearby Mar Menor and Mediterranean Sea allow open-water swimming and the surrounding areas provide various routes and terrain for running and cycling in beautiful unspoilt Mediterranean countryside, with expert advice available on the best course to use and a wide range of high-performance bikes available for hire through the Independent Activity Centre on resort.
La Manga Club boasts unrivalled facilities as a sports and leisure destination including three 18-hole championship golf courses, a 28-court tennis centre and a 2,000sqm spa and fitness centre. It also offers the choice of a five-star hotel, four-star serviced apartments and townhouses and more than 20 bars and restaurants.
For more information about Fitness 12 health and fitness breaks in 2014 and to book, go to fitness12retreats.com/dates/. For further details about La Manga Club and to book, visit lamangaclub.com.