England's hotspots for 2014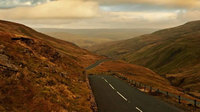 Calm your FOMO (Fear of Missing Out) - VisitEngland's guide to the top 2014 holiday hotspots will ensure you don't miss a thing next year. From litera-tours through Hardy's Dorset and Shakespeare's Stratford to top cycle rides in the wilds of Yorkshire and the curves of the Olympic velopark, here's a sneak preview of England's top hotspots for 2014.
Set-jetting in Camber Sands / Rye
Two big blockbusters released in February 2014 include scenes shot at Camber Sands - the World War II epic Monuments Men, starring George Clooney, Matt Damon and Cate Blanchett, and The Invisible Woman, a film about Charles Dickens and his secret mistress, starring Ralph Fiennes and Kristen Scott Thomas.
This winter destination is perfect for long bracing walks on the beach, afternoons of antiques and retro-clothing shopping with plenty of cosy café stops, and relaxing evenings by burning log fires or dining in top-quality restaurants. Take in the annual Rye Scallops Week (15 - 23 February) for a whole programme of scallop-related events to celebrate the local delicacy.
Our pick is The George in Rye, where the cast of Monuments Men set up camp. Well, if it's good enough for George Clooney... thegeorgeinrye.com
Foodie Hampshire
Opening in autumn, Heckfield Place manor house hotel has been reunited with its 330 acre farm and, as a hotel, will boast 60 individually-designed bedrooms, a historic walled garden, spa cottages offering health and beauty experiences, a delicious restaurant and a working farm with livestock and vegetables. The hotel's cuisine will be overseen by Skye Gyngell, of Petersham Nurseries fame. heckfieldplace.co.uk
Also in the foodie vein is the opening of Laverstoke Mill in March. Bombay Sapphire's new Hampshire-based distillery will feature a glasshouse designed by Thomas Heatherwick and a bar school on site. laverstokemill.co.uk
This is also the region of the huge, county-wide annual Hampshire Food Festival, and Hambledon Vineyard - one of the finest sparkling wine producers in England. Make a longer break of it and visit them all. hampshirefoodfestival.co.uk / hambledonvineyard.co.uk
Stratford (both of them) - Shakespeare & Cycling
In March, Lee Valley VeloPark will open its doors, becoming one of the lasting legacies of London 2012. The combination of no fewer than four cycling disciplines in one venue - particularly with BMX included - creates a unique asset for London, and for England as a whole. visitleevalley.org.uk
South Park in the Queen Elizabeth Olympic Park will also open in spring 2014, with wetlands and waterways providing a backdrop to new bars, cafes and restaurants and a continually changing programme of events in the energy-charged sporting, cultural and entertainment attractions. queenelizabetholympicpark.co.uk/
Also within the park, Anish Kapoor's landmark ArcelorMittal Orbit - Britain's largest piece of public art - will open in April. See London from a whole new perspective from one of two viewing platforms in The Orbital's observation tower. arcelormittalorbit.com
Meanwhile, in Warwickshire, Stratford upon Avon will be celebrating the 450th anniversary of William Shakespeare on April 23rd. Mark the anniversary with a walk along 'Shakespeare's Way' with Ciceroni Travel. New for 2014, this five-night tour is inspired by the journey Shakespeare would have made between the Globe Theatre in London and his Warwickshire home in Stratford-upon-Avon, passing through quintessential English towns and villages, including Oxford and Woodstock, and discovering his inspirations along the route. But unlike Shakespeare's rough and ready voyage, travellers will be transported by luxury coach and stay in top quality hotels, as well as going behind the scenes and enjoying world-class performances at both the Globe and Stratford's Royal Shakespeare Theatre.

The tour is led by professional Shakespearean actor, James Howard, who has worked for companies including the Royal Shakespeare Company, Donmar Warehouse and the National Theatre. The first tour runs from 16-21 May and costs £1,575 per person. ciceroni.co.uk
A Grand Tour de Yorkshire
As host of the Grand Départ, which features two stages of the Tour de France on July 5 and 6, Yorkshire is set to be at the centre of the cycling attention in 2014. Plan your visit and join the crowds lining the route to cheer on Cavendish, Froome and the world's finest riders. Travelling from Leeds to Harrogate, and then from York to Sheffield, the event will take in some of Yorkshire's most picturesque scenery and impressive cities. letouryorkshire.com
Those that prefer to be part of the action rather than spectating can travel ahead and try out the route themselves. yorkshire.com
While in Yorkshire, be sure to visit Hull, which has just been announced UK City of Culture 2017. The city's Fruit Market area and Marina now boasts a new generation of creative and culinary venues including the Museum of Club Culture, Fruit (with everything from music to markets, club nights to cult cinema) and stylish new restaurants such as 1884 Dock Street Kitchen. visithullandeastyorkshire.com
Venture Far from the Madding Crowd - To Dorset
In 2014, 140 years since the publication of Thomas Hardy's Far from the Madding Crowd, a Hollywood film adaptation of the book will be released. Filmed in and around Hardy Country in Dorset, the film will star Casey Mulligan, Michael Sheen and Tom Sturridge. Few authors have such strong associations with their local area as Thomas Hardy, and today you can explore two of the writer's houses - his childhood home and Max Gate, the property Hardy designed himself and moved into with Emma after his marriage. nationaltrust.org.uk/hardys-birthplace / maxgate.co.uk/
While in Dorset, check out the latest offering from the stylish new hotel from The Pig. The Pig on the Beach is set to open above Studland Bay, one of the country's most beautiful beaches, next spring. The 18th century manor house has dramatic views of Old Harry Rocks and the Jurassic Coast and will, like its sibling in the New Forest, feature a kitchen garden with home-grown produce. thepighotel.com
What's on in The Capital?
2014 marks 100 years since the start of World War One and a group of attractions around England, led by Imperial War Museums, will host a four-year commemorative programme of events. 4 August 2014, the day we entered the war, will be marked with a candle-lit vigil of prayer at Westminster Abbey (westminster-abbey.org). For more information, visit 1914.org.
The Imperial War Museum London will open new First World War Galleries next summer, which will tell the story of the 16 million people whose lives were claimed by the First World War. The £35 million project will include a re-designed atrium will stretch over six floors, providing a dramatic space to display the most iconic and unusual objects from the collection. iwm.org.uk
The Georgians and the Vikings are big characters in London next year. The British Library and Historic Royal Palaces will mark the 300th anniversary of the accession of George I to the throne with a selection of exhibitions and events, including a delectable 18th century Chocolate Kitchen at Hampton Court Palace. The British Museum, meanwhile, will be going big on Vikings, hosting a major exhibition from 6 March - 22 June.
bl.uk / britishmuseum.org / hrp.org.uk

A spate of new hotels springing up in London next year includes Nobu hotel, The Beaumont and The Mondrian. londonandpartners.com

For more inspiration of where to spend your holidays in 2014, check out visitengland.com