Scottish Snowdrop Festival returns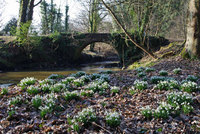 The much-loved Scottish Snowdrop Festival is to return this February with events running from 01 February to 16 March 2014. One of the first key festivals in the Homecoming Scotland 2014 calendar, visitors can experience this delicate bloom in a variety of stunning locations across the country.
A diverse range of 53 gardens, including 8 new additions, will showcase beautiful snowdrops, some of which are open exclusively for the event. Properties taking part range from walled gardens, urban retreats, historic castles, churchyards and woodland walks. As their name suggests, snowdrops may not even wait for the snow to melt before emerging from their winter sleep, instead pushing right up through the snow a delightful sight for the winter-weary.
New gardens taking part this year include:
Rossie House, Perthshire
A stunning country home run as a bed and breakfast, Rossie House is secluded in parkland and beautiful gardens and sits on the edge of the small village of Forgandenny. Experience this exceptional woodland garden with massive wellingtonias, red squirrels, snowdrops and snowflakes, erythronium, trillium and early primulas.
Open: 06 March, 2.00pm- 5.00pm
Entrance: Adults £4.00, children free
While you're there: The Innerpeffray Library has a stories exhibition of the people who borrowed books and came to school at Scotland's first lending library.
Bruckhills Croft, Aberdeenshire
A traditional croft-house surrounded by a beautiful informal country cottage garden with numerous flower borders. Below the main garden is a wildflower meadow and pond which attracts a great deal of wildlife. Bruckhills holds a collection of over 90 different types of Snowdrop arranged in small groups throughout the garden.
Open: By prior arrangement only 01- 31 March
Entrance: Adults £4.00, children free
Craichlaw House, Dumfries and Galloway
Within glorious surroundings, Craichlaw includes a formal garden with herbaceous borders around the historic house. Extensive grounds include lawns, lochs and woodland, and a path around the main loch leads to a water garden running past a recently planted arboretum in the old walled garden.
Open: By prior arrangement only, 01 February- 16 March
Entrance: Adults £4.00, children and concessions £3.00, children under 14 free
Islay Estate, Islay
The Bridgend Woodlands are famous for their beautiful displays of wildflowers, with thousands of snowdrops in the winter, then daffodils and finally bluebells into the spring. The area is also abundant with walking trails. West coast Islay snowdrops are best to enjoy early in the season (late January/ early February).
Open: Open 7 days a week.
Entrance: Free
Further highlights:
Cambo Estate, Fife
Cambo Estate holds the national collection of snowdrops, with 70 acres of woodland walks to the sea. A full family day out can be enjoyed with daily gardener led walks, piglets to feed and drop- in workshops within this snowdrop wonderland. The annual Snowdrops by Starlight experience will take a new format this year with visitors donning head torches and walking through the enchanting winter woodlands with kinetic and sound sculptures as well as live music.
Open: Daily, 10.00am- 4.00pm
Entrance: Adults £5.00, children free
Snowdrops by Starlight: 12- 16 February, 5.00pm- 9.15pm. Tickets are in advance only. Adults £10.50, concession £8.50, children £5.50, under 4s free.
While you're there: If visiting 05- 09 March, the StAnza Poetry Festival in St Andrews will be celebrating Scotland's cultural connections with the Commonwealth through poetry.
Finlaystone Country Estate, Renfrewshire
Snowdrifts of snowdrops with flowing burns and cascading waterfalls. Follow the self-led snowdrop stroll, discover formal gardens, woodland trails and imaginative children's play areas.
Open: Daily, 10.00am- 5.00pm
Entrance: Adults £4.00, children and concessions £3.00
While you're there: If visiting 20 February- 02 March, the annual Glasgow Film Festival will be celebrating its 10th anniversary and Homecoming Scotland 2014 with a dynamic new programme of events.
Castle Kennedy, Dumfries & Galloway
Located on an isthmus surrounded by two large natural lochs, these famous gardens extend to 75 acres of landscaped terraces and avenues which offer wonderful snowdrop walks.
Open: Weekends only 01 February- 16 March, 10.00am- 5.00pm
Entrance: Adults £5.00, concession £3.50, children £1.50, family ticket £11.00
Dunninald Gardens, Aberdeenshire
Carpets of snowdrops in the woods and wild garden. Historically, families living at Dunninald have planted snowdrops resulting in a rich carpet through the woods which visitors can enjoy today.
Open: 22- 23 February and 1- 2 March, 12.00pm-5.00pm
Entrance: Adults £4.00, children free
Full details of the participating gardens can be found on visitscotland.com.