A family adventure in the Italian countryside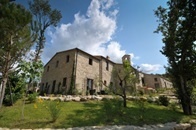 A great destination for an active family trip all year round, the Umbrian countryside will capture the interest of even the hardest to please young adventurers! Take the family on a memorable break in 2014 to embrace the authentic Italian lifestyle with pizza and pasta making, grape picking in the vineyards of Palazzone and long BBQ lunches amongst the olive groves. Chiesa del Carmine, an ancient 11th century church with an adjoining 18th century farmhouse is a luxuriously chic country house sleeping up to 14 guests, allowing family (and friends) a comfortable home to home during the school holidays.
The Estate
The historic church, recently restored provides the ideal spot for indoor lunches and late dinners. The spacious kitchen is equipped with everything one could want to prepare a feast, from its state-of- the-art oven to the Carmine Estate extra virgin olive oil produced on site! The dining room seats 14 comfortably, providing the perfect space for indoor dining, and offering panoramic views across the grounds and beyond. Let the children help prepare dinner and allow them to select produce from the organic vegetable garden bursting with courgettes, peppers, rocket and an impressive herb garden. In the heat of the summer, dining al fresco may be more favourable. Hop on the tractor and trailer and head to the middle of the Carmine estates 4 hectare vineyard. Prepare homemade bruschetta on the estates outdoor BBQ and finish off with toasting marshmallows over the embers.
A couple of footsteps across the courtyard lead to the wonderfully restored farmhouse, set on two levels and surrounded by individual terraces. Monte Corona, the master bedroom, has a large open fireplace, private terrace overlooking the church and vineyards, and outdoor stone steps offering its own entrance. The bedrooms all lead onto the centrally located living room, with a comfortable sofa, wood-burner, satellite TV and surround-sound stereo system. A vast array of games, extensive DVD and book collection, and pens, paints and drawing paper will keep children of every age entertained whilst the adults can sit back and enjoy a glass of local wine.
The Outdoors and Activities
The exterior to this property is equally charming. A Roman walkway leads up to the stunning 15 x 5.5m child friendly pool, offering a large pergola for shade with a seating area and a fridge to keep drinks cool on those balmy summer afternoons, in addition to comfortable sun loungers and umbrellas for those seeking shade from the sunshine. The pool sits in a quiet and secluded position, enjoying glorious views down the valley and across to the Apennines.
For adventure and fun, visitors are spoilt for choice with the array of activities on offer and historic and culture hotspots to visit. Read on for just some of those on offer:
Tuffle Hunting and Wild Asparagus Hunting
In season, both truffle hunting and wild asparagus hunting are a great way to get outside and explore the surroundings. Children will love the nature walks whilst hunting for the wild asparagus and get huge excitement from watching the dogs sniff out and dig those prize possessions on a family truffle hunting trip.
Pizza and Pasta Making
There are not many children (or adults) that can say no to a pizza cooked in a traditional pizza oven or a large bowl of hearty pasta. Visit Casa Padronale, where the family can learn to make pasta by hand or at Can San Gabriel, where you can create your own pizza to your taste and watch it cook in the traditional Italian pizza oven.
Casa Del Cioccolato - The Chocolate Factory
On the outskirt of Umbria, guests of Chiesa will find the Perugina Chocolate factory better known as Casa Del Cioccolato where visitors can discover all there is to know and love about chocolate and of course, a tasting of some of the most delicious and popular chocolates created at this factory.
Alpaca Farm
It's rare to see alpacas in the UK so why not take the children along to Casa San Gabriel, located just 1km from Chiesa Del Carmine with its very own herd of alpacas. Meet and feed Tom, the friendly alpaca or just enjoy a stroke and cuddle!
Lake Trasimeno
Located 20 minutes from Chiesa Del Carmine, Lake Trasimeno has three islands on the lake which you can island hop by ferry or private boat. Steeped in history, Lake Trasimeno is where Hannibal famously defeated the Roman army with his elephants. Isola Polvese is a private nature reserve where there is an ancient castle and a small sandy beach, perfect for little ones to paddle in.
Amphitheatre at Gubbio
The medieval city of Gubbio is a wonderful city to visit and among the many attractions is the amphitheatre. Enjoy and learn a little about Italian history but if that doesn't grab the attention of the children then the adventure playground right next door will.
Chrissie Todd, the lovely Estate manager, is on hand to ensure a personal service is offered to every guest. Whether it's a babysitter, housekeeper, private chef, masseuse or personal trainer, your heart's desire can be arranged prior to your arrival at this dreamy Umbrian home. Easily accessible, Chiesa del Carmine sits just a 25 minute drive from Perugia airport, which operates Ryanair flights from London Stansted from €80 return.
Standard weekly rates outside of the opening period offer start from €4,000 (*£3,326) villa only. A fully catered stay can be arranged.
*Prices calculated according to Xe.com at the time of issue and are subject to the exchange rate
Visit chiesadelcarmine.com for further information.