Gatwick set to welcome the Emirates A380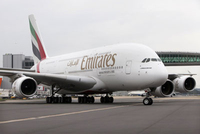 Emirates will become the first airline to operate a regularly scheduled service to London Gatwick airport.

From 30 March 2014, the airline's 489-seat A380 will replace the Boeing 777-300ER on EK flight 09/10, bringing a 36 percent increase in capacity on one of its three daily flights.

"London Gatwick was our first destination in the UK when we launched our services to the airport in 1987. It continues to be a strategic gateway not only into London but also into the regions of the Southeast and we are pleased to be the first airline to introduce a daily scheduled A380 service to the airport," said Thierry Antinori, Executive Vice President and Chief Commercial Officer, Emirates Airline.

"Our long term strategic partnership with London Gatwick enables us to bring our flagship A380 on a regularly scheduled basis and build on our robust presence at the airport. Our support for London Gatwick's long-term growth plans is aligned with our global strategy to optimise capacity on our major routes and to offer our passengers with ever more opportunities to fly on our A380s. The A380s are highly popular with our customers because of all travel comforts - thoughtful touches and luxury features - that we have packed into it," he continued.

"Scheduled A380 services further demonstrate Gatwick's emergence as a world-class airport, which now supports routes to established and emerging markets across the globe, and is rapidly becoming London's airport of choice for both business and leisure passengers. It also adds to Gatwick's already unique mix of aircraft models and carrier types," said Stewart Wingate, CEO of London Gatwick.
"Emirates and Gatwick have worked successfully together for more than 25 years so we are delighted that we will welcome its iconic A380 next year. This news is testament to the strong partnership we have with Emirates and its confidence in Gatwick as a dynamic, ambitious airport which has vastly improved and enhanced facilities for its airlines and passengers in recent years," continued Wingate.
The two decks of the Emirates A380 will offer 399 seats in Economy Class, 76 lie-flat seats in Business Class and 14 luxury First Class Private Suites. Passengers travelling in premium cabins can mingle in the Onboard Lounge, and First Class passengers can arrive at their destination refreshed in one of two onboard Shower Spas.

Passengers across all cabins can enjoy up to 1,600 channels of the latest movies, TV shows and music from around the world alongside a range of games on the award-winning ice inflight entertainment system. The latest technology allows passengers to stay connected throughout the flight with high-speed Wi-Fi access and mobile phone and data services.

Emirates is the largest operator of A380 aircraft in the world with 44 in its fleet and 96 on order, after its historic announcement to add 50 more at the Dubai Airshow in November. So far this year, Emirates has received 13 A380 aircraft which have been deployed to its network of 24 A380 destinations.

Emirates' current A380 destinations are: Amsterdam, Auckland, Bangkok, Beijing, Dubai, Hong Kong, Jeddah, Kuala Lumpur, London Heathrow, Los Angeles, Manchester, Mauritius, Melbourne, Moscow, Munich, New York JFK, Paris, Rome, Seoul, Singapore, Shanghai, Sydney, Toronto, and Brisbane. Emirates will start operating scheduled A380 services to Zurich and Barcelona from January and February 2014 respectively.

From 30 March 2014, the new A380-supported EK 009 flight will depart Dubai at 1500hrs and arrive at London Gatwick Airport at 1930hrs. The return flight, EK 010, will leave London Gatwick at 2115hrs and arrive in Dubai at 0720hrs the next day.