New apartments take shape in France's oldest 'gastronomic' ski resort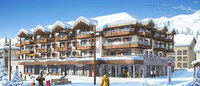 Work is well underway on the creation of a brand new residence de tourisme of ski-in, ski-out apartments available to buy on a leaseback basis in the heart of the village ski resort of Montgenèvre at an altitude of 1,850 metres in the Southern Alps.
Despite being the oldest ski resort in France – it dates from 1907 when it hosted the first international ski competition – Montgenèvre was little-known by Britons until recently when MGM built its first leaseback development built in the village. Le Chalet des Dolines opened for business four years ago.
According to Richard Deans, who heads MGM's UK sales office in London's West End, creation of the second residence forms part of a much bigger programme to upgrade the quality of life and facilities for skiers in the resort.
He said: "The local authority has invested around €80 million in a road tunnel so that traffic which used to pass through the village en route for the nearby Italian border has been removed and big improvements have been made to the front de neige – the area where the ski lifts start and the slopes end. In addition, the layout and maintenance of the ski slopes has been improved and new slopes, lifts and high-tech snow canons have boosted the appeal of the 400 km of pistes in the Milky Way network."
MGM's new residence, Le Napoleon, takes its name from the chalet hotel – now demolished – which stood on the site, not far from an obelisk raised in honour of Napoleon and inaugurated in 1804.
Already sold are 30 of the 50 apartments, many of which will enjoy panoramic views of the mountains and ski slopes when they are ready for occupation in December, 2014.
British buyers include families seeking a year-round holiday home which is handy both for the ski slopes and the Mediterranean coast three hours away by car.
"Many also like the 'gastronomic skiing' this area offers," says Richard. "From Montgenèvre it is possible to ski over to Italy for lunch and ski back for dinner in France!"
Four-star facilities within the new residence will include an indoor pool, fitness suite, gym, sauna, jacuzzi and steam rooms, as well as an OdesCimes beauty centre with a variety of massages and treatments on offer.
The residence will be run by the MGM Group's dedicated specialist company, La Compagnie de Gestion Hoteliere (CGH), which handles maintenance, letting and management for owners.
All of MGM's new homes in Montgenèvre will have pine internal finishes with tiled and parquet floors. In keeping with MGM's policy of using local natural materials wherever possible, the buildings will be clad externally in timber and stone.
Each home comes with cellar storage, a ski locker and underground parking.
The prices of apartments still available to buy at Le Napoleon start at €154,000 for a studio apartment rising to €413,000 for a four-bedroom property. These prices exclude French VAT at 19.6 per cent which is waived under the leaseback scheme.
Skiing note about Montgenèvre
Montgenèvre's southern position in the French Alps means that it is generally sunnier and warmer than ski resorts further north. At 1,850 metres altitude, snow is virtually guaranteed during the season. The pistes usually open as early as November for weekend skiing.
Winter attractions include night skiing and the Monty Express, a 1,400 metre descent by toboggan through forests, over wooden bridges and through tunnels during both the winter and summer seasons. Trekking, biking and golfing are among other activities in the summer when the front de neige converts into an 18-hole golf course. Within easy reach are historic fortress towns like Briancon and picturesque mountain villages.
Getting there
The easiest routes to Montgenèvre from the UK are through Italy. The nearest airport is Turin, 75 minutes away by road. Carbon footprint conscious Eurostar travellers from London can change trains in Paris to take the three-hour TGV journey to Oulx in Italy, just 20 minutes by road from Montgenèvre. Alternatively the airports at Grenoble and Chambery are a two-and-a-half hour drive.
For more information, visit mgmfrenchproperties.com.