Mechanic gears up for expansion thanks to online success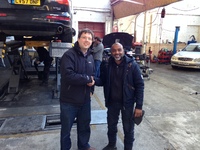 A mechanic is driving ahead with plans to grow his empire as a result of booming sales - thanks to online promotion.
Patrick Patel, who owns Automotive Components Specialist in Enfield, North London, is expanding his company after steadily growing his customer base online.
Patrick, who worked in the service department of a prestigious Audi dealership in Canary Wharf for nine and a half years, worked his way up to the role of service manager and became the best performing manager in his group.
However, when Patrick left Audi to set up his own business in 2009, he struggled, like many fledgling businesses, to gain momentum due to the difficult economic climate. He discovered whocanfixmycar.com on Twitter – a site which enables customers to post job requests for free, receive quotes from rated garages and mechanics nearby, and leave feedback about their experiences.
After speaking to the whocanfixmycar.com team about his circumstances and signing up for the site, Patrick's sales soon began to pick up. In 2013 he took on over 100 jobs via the site with additional repeat work and recommendations to family and friends. His feedback is second to none, with 100% of it positive and almost every customer highlighting his high level of customer service.
Thanks to these sales, Patrick has been able to invest in a workshop space with nine ramps, and has taken on four employees. He is now planning to open a second unit back in his familiar territory of Canary Wharf and considers whocanfixmycar.com as an integral part of growing sales.
Patrick said: "Launching my own company in the midst of the recession was undoubtedly a struggle, but when I started to focus on my online presence then I noticed a change very quickly. The service from whocanfixmycar.com has been excellent and has helped me to find new customers and - very importantly - receive fantastic feedback, which has in turn contributed to the growth of the company.
"I think my experience shows just how important it is for small businesses to find innovative ways to promote themselves in the digital landscape nowadays. As an independent mechanic with a fledgling business, I didn't have the budget for an extensive advertising and marketing campaign, but if you are listed on a reputable feedback site and you provide a consistently good service, then the word can quickly spread and your customers will promote your business for you. It's proved to be a very powerful tool."
Ian Griffiths, CEO of whocanfixmycar.com said: "We're thrilled that we've helped Patrick reach a position to be able to expand his business, especially considering how tough the economic climate has been – and still is. His success is a key example of how firsthand feedback online can rapidly increase sales.
"Motorists still harbour a lot of mistrust and wariness about being ripped off by garages. That's where we come in - we work hard to help our rated mechanics make new contacts in their local area, and to ensure that customers have a platform to report back about the service they have received."
More than 25,000 jobs have been posted by motorists on whocanfixmycar.com and in excess of 4,000 mechanics have signed up.