€100 million investment underlines confidence in French Alpine property market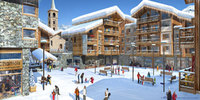 Work is getting underway on the final phase of a massive €100 million investment in order to create 130 more brand new apartments in what have proved to be three of the French Alpine ski resorts most likely to appeal to British tastes, it is announced this week by the region's leading property developer, the MGM Group.
Richard Deans in the group's London-based UK sales office says the move underlines MGM's confidence in the burgeoning French Alpine property market and its outlook for 2014 and beyond.
The new schemes in Tignes, Valmorel and Châtel all comprise the second phases of recent MGM developments which have been so successful that, in each case, all but a handful of the phase one apartments already have been sold, many of them off-plan.
In Tignes, new apartments are to be added to the 108 completed by MGM in December at its ski-in, ski-out Kalinda Village development, a résidence de tourisme forming part of the new Tignes 1800 'gateway' to the resort. With only 15 still available to buy, the company has stepped up its plans to start building 60 more later this year.
Only ten of the 86 brand new leaseback ski apartments under construction in the family-friendly pedestrianised French Alpine village of Valmorel are still available to buy but, for those who prefer to have unlimited access to their properties in a location which enjoys year-round popularity, MGM has announced that phase two of its Grange aux Fées development will comprise 37 apartments for outright purchase.
Meanwhile, close to Les Gets in the picturesque village of Châtel, a 90-minute drive from Geneva Airport, just 12 apartments are still available to buy in the first phase of Les Chalets d'Angèle, the MGM résidence de tourisme which was completed last year.
But within a matter of months construction work is due to start on the creation of two new chalets together containing a further 34 apartments for outright purchase. Ranging in size from one-bedroom to three-bedrooms, they are for sale at prices said to be "significantly lower" than those in many comparable resorts, thanks to MGM's acquisition of the site on favourable terms a few years ago. The off-plan prices of these new apartments start at €240,000.
For more information, visit mgmfrenchproperties.com.