Renault makes electric ZOE even more attractive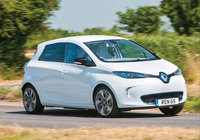 Renault's flagship electric vehicle, ZOE, has already made quite a splash since it hit the UK's streets last June. Now, on the back of the Government's exciting Go Ultra Low campaign Europe's leading electric vehicle manufacturer is going to be sparking even more interest in its striking supermini with a series of customer and marketing initiatives.

Renault ZOE – the cost-effective alternative to fossil-fuelled superminis

ZOE is already one of the UK's most affordable electric cars, but to make it even more enticing, Renault has today launched a brand new battery hire option for lower mileage retail customers. Available with all new ZOE orders, from only £45 per month, when taken over a three-year term, based on 3,000 miles per year, it offers a real cost-effective alternative tailored to those doing shorter journeys on a regular basis.

Much of ZOE's appeal stems from the fact that it's a no-compromise, stylish supermini, it just happens to be electric. It's unsurprising then that it also stacks up well on cost versus fossil-fuelled small cars. For example, not only does it cost only 2 pence per mile to run, from £13,995 on-the-road it also undercuts the comparable diesel version of the country's best-selling Ford Fiesta, in 5-door Style TDCi 75 guise, in terms of upfront cost, by £300, even with a superior level of standard equipment.

Now, it's leading the charge of vehicles with zero tailpipe emissions with a brand new retail finance offer. The new package sees the stylish ZOE Dynamique available, until 31st March 2014, on Renault Selections PCP from £189 per month, with a deposit of just £1,720, including a £1,000 customer deposit contribution. That's on top of its comprehensive Renault 4+ package, worth over £1,000, which includes 4 years/100,000 miles warranty, roadside assistance and routine servicing (4 years/48,000 miles).

Plus, from this month, the creative automaker is also enticing car buyers with Selections 500. The new customer loyalty incentive, which includes ZOE, guarantees £500 as a part-exchange bonus towards a new Renault model at the end of a customer's finance contract.

Unlike some rivals who require users to shell out hundreds of pounds on a charging solution, Renault also includes a 7kW single Wallbox, which charges ZOE in three to four hours, for free at domestic properties in the UK*. Add all of these savings up and a typical ZOE buyer could be over £2,500 better off, even before taking into account the associated Benefit-in-Kind, road tax and congestion charge benefits of running an electric vehicle.

A representative finance offer for Renault ZOE Dynamique Intens or Dynamique Zen is:

48 monthly payments of £189 including VAT (excludes £45 battery hire, based on 36 months/3,000 miles per year)
Customer deposit £1,720
On-the-road price £15,195
Deposit contribution £1,000
Total amount to be financed £13,475
Acceptance fee £99
Optional final payment £6,005
Credit facility fee £139
Option to purchase fee £10
Total amount payable by customer £17,045
Rate of interest (fixed) per annum 7.02%
Representative 7.7%
Total rental £234 (including £45 per month battery hire)

Making the switch to electric motoring does not have to be tricky. In fact, one of the greatest benefits of choosing a ZOE is peace-of-mind. The battery hire contract includes a battery performance guarantee, whereby if, for any reason, its operation falls below 75% of its original capacity, it will simply be repaired or replaced, regardless of the vehicle's age or mileage. In the unlikely event that a customer runs out of charge, cover is also included to take them to a chargepoint. Renault has a national network of EV-ready dealerships, every one of which has charging solutions, and the national network of charging points is growing by the day. For full details, see renault.co.uk/chargemap.

Building on the current success of the ZOE Scalextric viral video which has already attracted over 400,000 views, plus its small screen appearances as part of Renault's exciting design-led 'Animal Attraction' sponsorship of the Jonathan Ross Show, the company's flagship electric vehicle will also be taking to the virtual world shortly, through tie-ups with MSN, mumsnet and T3 to name but a few.

Back in the real world, using Renault's "Life Designed" theme, ZOE will also be looking to draw in the crowds with its svelte lines as it appears in the metal at Westfield shopping centres across the UK.