Celebrate the 450th anniversary of Shakespeare's birth!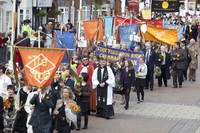 Celebrate the 450th anniversary of William Shakespeare's birth in Shakespeare's England. Shakespeare was born in Stratford-upon-Avon on the 23rd April in 1564 and many of the region's key attractions will mark the anniversary with a year round programme of productions, events, festivals and exhibitions. With a whole host of celebrations and much to see and enjoy, celebrate the life of the world's most famous playwright throughout the year in Shakespeare's England.
Stratford-upon-Avon's celebrations of the anniversary will take place on 26 & 27 April when thousands of visitors are expected in the town. The tradition of the Birthday Celebrations dates back to 1824 and brings together residents and visitors with people from the worlds of diplomacy, theatre, literature and academia in a vibrant mix of pageantry and performance. Festivities start with the grand 1,000 strong procession which parades through the town centre of Stratford-upon-Avon and finishes with the laying of flowers on Shakespeare's grave at Holy Trinity Church. A community parade follows and spectators can join the throng of costumed players and musicians to celebrate the anniversary.
Starting with a special performance on the evening of 25 April and morning of 26 April outside Shakespeare's Birthplace, there will be an extended programme of events and activities at the five Shakespeare family homes and free entertainment in the streets and parks of Stratford-upon-Avon throughout the weekend. The Royal Shakespeare Company (RSC) will be running a range of free activities for all the family in and around its theatres on Saturday 26 April, including storytelling sessions, stage fighting workshops and the chance to see how fake scars and bruises are created. Visitors will also be able to enjoy music in the foyer areas, and, for 50p, cross the river on the ferry listening to RSC actors reading sonnets.
From March the Royal Shakespeare Company will open a major new production of Henry IV Parts I & II which will play until September in repertoire in the Royal Shakespeare Theatre along with his early play The Two Gentlemen of Verona. In the Swan Theatre, the Roaring Girls Season explores works by Shakespeare's contemporaries that feature great roles for and about women. On Shakespeare's actual birthday, 23 April, the RSC will celebrate with a firework display from the top of the Royal Shakespeare Theatre from 10.30pm after that evening's performance of Henry IV, Part I. Taking inspiration from Ben Jonson's "star of poets" description of William Shakespeare, the display will include a recreation of Shakespeare's face, but in pyrotechnics.
In June the RSC will also celebrate the 40th anniversary of The Other Place studio theatre and the extraordinary vision of its founder, Buzz Goodbody, with 'Midsummer Mischief', a prologue to their plans to reinstate The Other Place in 2015. 'Midsummer Mischief' is a month-long season of new plays running in The Other Place at The Courtyard Theatre.
In March The Shakespeare Birthplace Trust will launch a brand new exhibition 'Famous Beyond Words' which will explore the extraordinary story of William Shakespeare, the boy from Stratford-upon-Avon who became a household name all over the world. It will reveal how Shakespeare's work has fascinated people of all ages and backgrounds for four centuries and will take visitors on a journey back through time to discover what sparked his imagination and how he continues to shape our lives today.
The Trust is also launching its first national campaign to give every primary school child in Britain a great first encounter with Shakespeare. Shakespeare Week (17 - 23 March) will unite primary schools, theatres, galleries, museums, cinemas, libraries, musicians, publishers and historic places in a nationwide celebration of Shakespeare's cultural and creative influence. For information about events and activities for schools and families see shakespeareweek.org.uk.
Throughout 2014 the RSC and the Shakespeare Birthplace Trust will run other events and exhibitions celebrating Shakespeare's legacy. They will also release a newly illustrated map of Shakespeare's hometown, with a walking route between his Birthplace, Royal Shakespeare Theatre and Holy Trinity Church, making the perfect itinerary for visitors keen to explore the playwright's legacy in this important anniversary year.
A concert in Holy Trinity Church on 24 April will launch a new three year global singing project by the Shakespeare Birthplace Trust to mark the anniversary of the playwright's birth and death. Singing Shakespeare will inspire choirs from all over the world to perform musical settings of Shakespeare. The concert will form part of the town's Birthday Celebrations and will feature the world premiere of a new work by award-winning composer Gary Carpenter, as well as the world premiere of a new arrangement of Stephen Sondheim's 'Fear No More'. The concert will include performances by the Stratford-upon-Avon Chamber Choir, Holy Trinity Church Choir and Cantare, a newly formed chamber choir based in Stratford. Tickets cost £12 (adults) and concessions £9 (children 5-17, students in full time education and over 60s). Book online at singingshakespeare.com
Warwick and Warwick Castle will celebrate 1,100 years in existence this year. There will be a number of special events and celebrations for the family to enjoy including the re-launch of the Kingmaker attraction which will now encapsulate the popular BBC series, The White Queen, based on Philippa Gregory's bestselling novel. 2014 will see an all new Warwick Castle with every single attraction re-launched in celebration of its 11th Century including Mediaeval Glamping available from 24 May - 31 August. Visit warwick-castle.com for more information.
The Heritage Motor Centre is 21 in 2014! The collection at Gaydon is an unrivalled selection of the best of British motor cars, including some of the world's most well-known pieces of automotive design. To celebrate this auspicious occasion the HMC have chosen 21 products and people that represent the very best of British motoring and put together for a special exhibition. From the Mini and the Jaguar E-type via tyres and Cat's Eyes, to Alec Issigonis and Colin Chapman, all embody the pioneering spirit of Britain's contribution to the motor industry. For each of the 21, the exhibition will explore their history and why they are so important to Britain's automotive evolution.
2014 is also a milestone year for Compton Verney as it will be 10 years since the award-winning art gallery opened its doors for the first time. The gallery will open its season on Saturday 15 February and celebrate with two special exhibitions. The first, an awe-inspiring exhibition of works by two of the greats of sculpture, Moore Rodin, and the second a major survey of British Folk Art, which is apt for the gallery which is home to the largest collection of British Folk Art in the UK. Please visit comptonverney.org.uk
Mary Arden's Farm, the working Tudor farm where Shakespeare's mother grew up, will be celebrating its 500th anniversary with an exhibition reflecting the rich history of the house and the local community.
The Stratford-upon-Avon Literary Festival celebrates its 7th successful year this year with a host of events and activities from 26 April - 4 May including a Children's Book Day with leading authors and illustrators. The Festival is the highlight of the regional calendar and one of the most significant literary festivals in the UK, attracting thousands of people who share one passion: a love of books, writing and reading. Please visit stratfordliteraryfestival.co.uk
Enjoy a performance of Romeo and Juliet at Batsford Arboretum on 10 July at 7pm and a school's matinee at 1pm. The Lord Chamberlain's Men return with their 10th anniversary performance of this much loved play. The Men specialise in performing Shakespeare exactly as he intended using beautiful settings to add to the atmosphere. Matinee tickets cost £10 and evening tickets cost £16 for adults & £10 for children, students and concessions. Gates open an hour before each performance so bring your own picnic and rug, settle down and enjoy magical theatre in a magical venue. To book please call 01386 701441.
Feast on a special 'Bards Banquet', a themed 22 dish banquet designed to honour the man himself at El Greco, a delightful Greek restaurant in Stratford-upon-Avon. Enjoy this delicious Greek style Mezzes menu every day throughout 2014 except Christmas Day and Boxing Day. Lunch & pre-theatre is £22.95 per person and dinner is £24.95 per person. Great fun whether you are a table for two or part of a group – all the food goes in the middle of the table for everyone to share!
Celebrate the anniversary with a special Culture & Country Two Night Break. Start your break at the boutique Arden Hotel in Stratford-upon-Avon with bed and breakfast, a 2-course dinner at The Waterside Brasserie and tickets to 3 of Shakespeare's houses. Then travel to Mallory Court Hotel, just outside Royal Leamington Spa. This glorious Relais & Chateaux country house hotel and estate is the epitome of English charm. Enjoy a cream tea on arrival plus breakfast the following morning. Inclusive rate from £329 based on a couple sharing a classic room.
Stay at The Bell in Alderminster, a modern day country pub for 'Shakespeare's 450th Birthday Sleepover' on Saturday 26 & Sunday 27 April and receive an overnight stay on Monday 28 April absolutely free. Quote SHAKE450. Please visit thebellald.co.uk
To book, or not to book: that is the question? To celebrate the anniversary Avonlea Guest House in Stratford-upon-Avon is offering 50% off a Sunday night when 3 or more nights are booked including a Sunday. Please quote "Bard's Birth" for availability and T&C's.
To celebrate the anniversary The Carter Company have unveiled a brand new cycling trip, 'Shakespeare's Way', which traces the route from the Globe Theatre in London back to Shakespeare's home in Stratford-upon-Avon. The route can be taken in slowly as 'Shakespeare's Way 10 night trip', or more speedily as 'Shakespeare's Way 7 night trip'. It travels through the beautiful countryside of the River Thames, the Cotswolds and the Chilterns and past some of England's finest attractions. Visit the-carter-company.com
For more information on Shakespeare's England in 2014 please visit shakespeares-england.co.uk/shakespeare-450