Taylor Wimpey earns national recognition for 'green' drainage scheme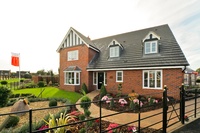 A leading East Midlands housebuilder, Taylor Wimpey has been asked to present details of how collaboration in design can help create an innovative 'green' drainage system to a group of industry experts at a national conference later this year.
Senior Engineer Steven Clarke and Associate Technical Director Chris Leeson have been invited to talk about the Sustainable Urban Drainage System (SUDS) which has been designed and is under construction at the housebuilder's Grangewood Manor development in Leicester Forest East. This new design sets new standards for 'green' methods in the management of rainwater drainage.
The eco-friendly system, which was designed and planned in partnership with Leicestershire Council Council, takes surface water from the ground and the new homes being built at the development and then naturally feeds it into an on-site storage lagoon. This creates a focal point for the new community, a future habitat for new wildlife and prevents the risk of flooding.
The onsite water features also create a sense of place for the new community to enjoy with homes set around the newly formed shallow drainage swales which over time will become even more attractive as the landscaping matures.

The development features permeable pavements, which allow rainwater to percolate whilst at the same time serves as a filtration for the water going into the system, removing impurities before it reaches the sustainable balancing pond.
The National conference, called Delivering SuDS Not Duds, is organised by Ciria (the Construction Industry Research and Information Association) and will be attended by engineering consultants from across the country, offering Taylor Wimpey the chance to demonstrate and inspire best practice on a national scale.
Steven says: "It is a huge honour to be invited to present details of our Grangewood Manor SUDS – the first of its kind to be considered for adoption in the whole of Leicestershire – and shows that Taylor Wimpey's efforts to improve sustainability when it comes to drainage are being recognised at national level."
The "Delivering SuDS Not Duds: Local Authorities and Developers Working Together" conference will take place on 11th March in London.
There is a selection of four and five-bedroom homes currently available to buy at Grangewood Manor priced from £315,995.
House-hunters can find out more by visiting the Sales Centre, located off Beggars Lane, Leicester Forest East, LE3 3NQ, and open daily from 10.30am to 5.30pm. Alternatively, visit taylorwimpey.co.uk.