Easter yoga break to Morocco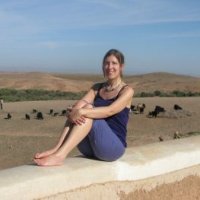 Healthy holiday company Satvada Retreats has created a brand new, five-night, yoga break to Marrakech, Morocco, departing 18 April.
Morocco is a year-round, sunshine destination, and April is arguably one of the best months of the year to visit with daytime temperatures averaging 25 degrees.
The aim of the break is to strike a balance between down-time and relaxation, with two 90-minute yoga and meditation classes – morning and early evening – with guests free to do as many or as few as they wish.
The morning session will commence around 9am which will be followed by a hearty brunch, after which guests will be free to discover the souks or to simply sunbathe on the roof terrace.
The early evening session will be preceded each day with afternoon tea comprising delicious home-made Moroccan pastries and sweet, mint tea.
Other activities included in the break include an hour's massage and a half day's walking tour of the Marrakech Medina.
Accommodation is at a quiet, centrally-located, traditional, five-bedroomed riad – built around a courtyard – in the heart of the Medina and just a short stroll from the main square which bursts into dusk every evening, when the musicians, acrobats, jugglers and food vendors arrive to ply their trade.
The flat terrace roof of the riad is the perfect place to enjoy a quiet cup of mint tea, to sunbathe, read or snooze!
The holiday costs from £697 pp if booked by 19 February (from £797 afterwards).
This includes five nights' B&B plus daily brunch, two daily 90-minute yoga and meditation classes, four evening vegetarian meals, a massage, half-day guided walking tour of Marrakech, daily afternoon tea and cake.
Flights and transfers not included (Easyjet and Ryanair both fly to Marrakech) and transfers cost around £10 each way. Guests also need to bring their own yoga mats.
For more information, visit satvada-retreats.co.uk.