Range Rover Evoque Autobiography Dynamic to debut at Geneva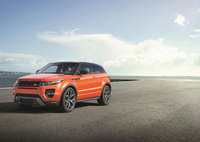 Land Rover is introducing the Autobiography name to the Range Rover Evoque for the first time with the more powerful, more agile Autobiography Dynamic featuring a 285PS turbocharged engine and optimised chassis for enhanced performance and sharper handling.

The Autobiography Dynamic derivative sees the Evoque's 2.0-litre turbocharged petrol engine, upgraded to 285PS and 400Nm, a substantial 45PS and 60Nm increase. Its 9-speed ZF transmission now responds even more keenly to sportier driver inputs, including when left in Drive.

Active driveline is optional on all Range Rover Evoque derivatives and comes as standard equipment on the Autobiography Dynamic. One of the world's first four-wheel-drive systems of its kind, active driveline improves traction, enhances agility and improves fuel efficiency by engaging four-wheel drive seamlessly and automatically when required.

Further increasing driver enjoyment, the steering of the Autobiography Dynamic has been specially tuned for additional on-centre precision; the chassis also features upgraded suspension geometry, firmer spring rates and recalibrated adaptive dampers, increasing agility and turn-in response. This has been achieved without impacting on the Range Rover Evoque's compliant ride quality.

To ensure drivers can fully experience the Autobiography Dynamic's optimised performance, upgraded 350mm front brake discs have been fitted, while Torque Vectoring by Braking (TVB) is standard equipment. TVB helps to reduce understeer on low- and high-grip surfaces, providing more responsive handling characteristics.

Enhancing Land Rover's existing suite of connected-car technologies, Land Rover InControl Apps also debuts across the range. In a world first, InControl Apps enables vehicle-optimised smartphone apps to be displayed and controlled with their original look and feel from the vehicle's touchscreen. Owners simply download Land Rover InControl Apps to their smartphone and connect it to the vehicle's dedicated USB port to enable compatible apps to function on the Range Rover Evoque's touchscreen, with new content available every time the apps update.

This new in-car technology complements the Evoque's existing infotainment system by bringing the convenience and familiarity of iPhone or Android smartphone apps into the owner's vehicle.

Speaking ahead of the official world premiere for the Range Rover Evoque Autobiography Dynamic at the Geneva Motor Show, Murray Dietsch, Director of Land Rover Programmes, said: "The introduction of Land Rover InControl Apps together with the new range-topping Autobiography Dynamic, takes the Range Rover Evoque's core strengths a step further, bringing increased connectivity, desirability, luxury and dynamic ability to the already successful line-up."

The Autobiography Dynamic makes a bold design statement with enhanced dynamic body styling, a new premium grille design, lower front valance, jewel-like headlights and tail lamps and 20-inch forged alloy wheels. Autobiography ingot badging on the tailgate and front wing vents provides further visual differentiation. A new and striking premium metallic body colour called phoenix orange also debuts across the Dynamic Evoque derivatives.

Inside, the Autobiography Dynamic is equipped with a luxurious leather interior in a selection of six colour palettes. Customers can choose from a dynamic plus leather interior with either sports or premium climate seats and a choice of four colours. Headrests feature an Autobiography embossed logo whilst Autobiography illuminated tread plates greet you as you open the door.

Jaguar Land Rover UK Managing Director, Jeremy Hicks said: "The Range Rover Evoque has been an enormous success in the UK with its blend of bold design, luxury and compact versatility. Demand remains strong two years after the start of production, and with the introduction of the Autobiography Dynamic, customers have more choice and access to a new heightened level of agility."

Since its launch in 2011, the Range Rover Evoque has won 157 international awards for its combination of leading-edge design, striking interior craftsmanship, agile handling and off-road capability. It continues to appeal to customers with more than 270,000 sales worldwide, making it the fastest-selling Land Rover of all time.