Guess unveil ELLA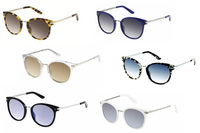 Don't let the recent torrential weather dampen your spirits for summer. With the brighter mornings, and the lighter evenings, we are renowned to be a happier nation when the sun is present.
Guess would like to introduce their latest member to their stunning sunglasses range – ELLA.
ELLA is a fun, youthful and delicate shape which can add catwalk chic to any outfit, and take you from day to evening with its' perfect mix of retro and modern.
Sunglass trends for 2014 may not be ground-breaking, but this season it's time to cast aside the traditional aviators and think braver, bolder and brighter. Available in tortoiseshell, blue, black, white and clear; the ELLA frame will speak your personality proudly.
Celebrity or not, your sunglasses help to protect our eyes from the sun's glare, but most importantly, they are everyone's favourite accessory.
ELLA retails at £100 and is available from Guess Stores in the UK and Guess.eu.