Celebrate a fun inspired Easter in Shakespeare's England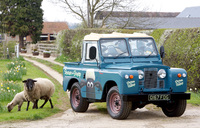 Celebrate Easter with a whole host of fun activities for all the family in Shakespeare's England from the 12 - 27 April. Search for clues to win prizes with Easter trails and egg hunts, see a performance of Curious, join in with the Shakespeare Birthday Celebrations, celebrate 1,100 years of history in Warwick, marvel at spring flowers at Hill Close Gardens or simply enjoy a special Easter lunch with friends and family.
Watch a performance of Curious, a production for 0 - 3 year olds in the Ferguson Room at the Royal Shakespeare Company Swan Theatre in Stratford-upon-Avon on the 13, 14 & 15 April. A story without words, Curious is a spirited play for the very young – a perfect giggle-making introductory experience to theatre that explores everyday objects in an interactive environment. The performance ends by inviting children onto the stage to dig and rummage in the soil. Tickets cost £8 adults & £6 for children. On Shakespeare's actual birthday, 23 April, the RSC will celebrate with a firework display which will include a recreation of Shakespeare's face, but in pyrotechnics from the top of the Royal Shakespeare Theatre from 10.30pm.
Over the Easter holidays there are plenty of family activities taking place at the Shakespeare Houses. At Shakespeare's Birthplace, create a Shakespearian word and add it to a trail of ribbons decorating the Birthplace Garden. Visitors can create their own mythical creature and carve them onto a Tudor tile at Mary Arden's Farm. Fantasy flowers can be made out of recycled materials and planted in the garden at Anne Hathaway's Cottage and at New Place & Nash's House children can make their own character to add to the mini theatre cast. Over at Hall's Croft visitors can transform themselves into a plague victim with the face painters.
Enjoy Easter with a Victorian flavour amongst the bulbs and blossom at Hill Close Gardens in Warwick from 19 – 21 April. See displays about the Victorian way of life and enjoy morning coffee and afternoon teas in the visitor centre. On Sunday children can take part in an Eggstravaganza to find chocolate eggs (£4 per child) and join in with the Easter bonnet Parade at 3.30pm. Visit the delightful Victorian brick summerhouses overlooking Warwick racecourse and browse the range of plants and gifts in the shop.
Celebrate Warwick's 1,100 Anniversary in Warwick Town Centre on Saturday 19 April. The celebration will take place in the market square with a procession led by St George on horseback through the streets of Warwick. Plus there will be a medieval market, shield making workshop and entertainment throughout the town and on Stage with Touch FM.
The world's largest bird of prey, the Andean Condor, is to take flight at Warwick Castle from Easter. Rosie, a female condor, will rule the skies as part of the twice daily Flight of the Eagles bird show which incorporates multiple birds from Warwick Castle's collection. In an impressive display which will use more falconers than ever before, Rosie will fly between iconic areas of the Castle from an initial starting point in the Yew Tree hedges. Venture through over 1,000 years of history as visitors are taken on a rotten journey of action packed games and adventure with nasty nuggets and foul facts aplenty! Finest characters will be on hand to bring the terrible and horrid stories of the Castle's past to life.
Family visitors to Kenilworth Castle & Elizabethan Gardens are invited to set off on an adventure through history with the launch of a brand new Easter Adventure Quest and a celebration of the great St. George. Young adventurers can get hands on with history as they set off on a quest to help the forgetful king. Will they rise to the challenge that involves cracking clues, finding missing treasures and exploring the hidden corners of the Castle? Kenilworth will also be celebrating the best of British fun as the legend of St. George and the dragon will come to life from the 26 – 27 April. Celebrate this great British hero – junior knights will love the hands-on fun and games and history hunters of every age will enjoy cheering on this champion as he battles a mighty dragon in a quest to save the fair maiden.
There is mayhem at the Heritage Motor Centre as Shaun the Sheep and the rest of the flock are let loose this Easter. Help them round up the flock with the 'Find the Flock' Easter Trail and have fun with the 'Shaun the Sheep' activity sheet. There's also a colouring competition and treats and prizes to be won. There are plenty of activities to keep the whole family entertained including Lego Technic Tuesdays, Shaun the Sheep themed Family Crafts on Thursdays and Mini Movers for the under 5s on the last Friday of the holidays.
Ragley Park and Gardens will open from 10am - 5pm every day of the Easter holidays. Guided tours of the state rooms will take place at 11am, 12 noon, 1pm, 2pm and 3pm and cost £2 for adults & £1 for children. Enjoy brunch in the Terrace Café and hot & cold refreshments in the Lakeside Lodge and Terrace Cafe including Fish & Chips on Good Friday and a traditional Sunday Lunch on Easter Sunday. On Easter Sunday & Monday there will also be additional activities including an Easter Egg Hunt, face painting, children's fairground rides, falconry display and crafts. Activities cost from £2 per person.
Take part in The Big Batsford Chicken Hunt at Batsford Arboretum. The chickens will be hiding and visitors will have to mark their locations on the map to win a prize! Cost £2.50 per child (plus entrance fee). Visitors can find out about attracting wildlife to their garden on Good Friday and Easter Saturday from 11am – 3pm. Experts from the Gloucestershire Wildlife Trust will give free advice and tips about the best plants to buy to provide the perfect environment for birds, insects and wildlife plus there'll be children's activities. Join the experts for a World Tai Chi Day on 26 April and watch as they demonstrate this exercise for all ages plus have a go yourself. This free session is a great introduction to Tai Chi and includes entry to the arboretum.
Legendary Kinks rock musician Ray Davies, design guru Emma Bridgewater and comedian and writer Tim Brooke-Taylor are amongst a host of celebrated names who will descend on Stratford-upon-Avon for the 7th Literary Festival from 26 April - 4 May. The Festival is a highlight of the regional calendar and one of the most significant literary festivals in the UK, attracting thousands of people who share one passion: a love of books, writing and reading.
Stratford-upon-Avon's celebrations of Shakespeare's Birthday anniversary will take place on 26 & 27 April when thousands of visitors are expected in the town. The tradition of the Birthday celebrations dates back to 1824 and brings together residents and visitors with people from the worlds of diplomacy, theatre, literature and academia in a mix of pageantry and performance. Festivities start with the grand 1,000 strong procession which parades through the town and finishes with the laying of flowers on Shakespeare's grave. A community parade follows and spectators can join in with the costumed players and musicians to celebrate the anniversary.
Starting with a special performance on the evening of 25 April and morning of 26 April outside Shakespeare's Birthplace, there will be a programme of events and activities at the Shakespeare Houses and free entertainment in the streets and parks of Stratford. The RSC will be running free activities in and around its theatres on 26 April, including storytelling sessions, stage fighting workshops and the chance to see how fake scars and bruises are created. Visitors will also be able to enjoy music in the foyer areas, and, for 50p, cross the river on the ferry listening to RSC actors reading sonnets.
Enjoy musical settings of Shakespeare with world premieres by composer David Wordsworth and Gary Carpenter at the Holy Trinity Church on 24 April. The concert will form part of the Birthday Celebrations and include performances by the Stratford-upon-Avon Chamber Choir, Holy Trinity Church Choir and Cantare. Tickets cost £12 (adults) and concessions £9 (children 5-17, students in full time education and over 60s).
To coincide with the birthday celebrations, Stratford-upon-Avon will give sanctuary to Coventry's most famous daughter, Lady Godiva, in the form of an extraordinary 6 metre tall mechanical puppet. The giant feat of engineering will arrive in Stratford to launch her own Regional Odyssey on the 25 April. According to legend, Godiva was an 11th Century noblewoman who rode naked through the streets of Coventry as a protest over the high taxes imposed by her husband, the Earl of Mercia. Supported by Shakespeare Birthplace Trust and the RSC, the fully-clothed Godiva will spend a night in Stratford before leading the biggest ever community celebration the town has seen "The People's Pageant" on 26 April.
Enjoy an Easter Sunday lunch at Wroxall Abbey Hotel & Estate on Sunday 20 April from 12pm – 3pm. Dine from the Chef's 3-course menu including traditional roast and a selection of favourites finished off with an Easter Chocolate Fountain. Tickets cost £24.95 per person.
Visit The Arden Hotel in Stratford-upon-Avon for a traditional fish supper for £12.50 per person including a glass of house wine or a pint of beer. Or enjoy a traditional Easter Sunday lunch with treats for the whole party for £29.50 per person. Extend your stay and enjoy a leisurely weekend break with two nights including fish supper & breakfast both mornings costing £325 per couple. Two nights including fish supper, breakfast both mornings & Easter Sunday lunch is £385 per couple.
Spend the night this Easter at the Ettington Park Hotel and take advantage of the beautiful bedrooms, relaxing atmosphere and time to indulge with the family. An overnight stay costs from £149 per room including a 3 course Table d'hote dinner for 2 people with a glass of champagne and pre-dinner canapés.
Enjoy a two night bed and breakfast break at the Best Western Grosvenor in Stratford-upon-Avon and receive an Easter egg for each family member! The package includes 2 nights' accommodation and breakfast each morning for £160 or £199 for a 2 night dinner, bed and breakfast break.
For more suggestions and family friendly accommodation in Shakespeare's England visit shakespeares-england.co.uk/easter.