'Shaun the Sheep' is let loose this Easter at the Heritage Motor Centre!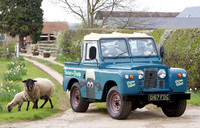 There is mayhem in the museum this Easter as 'Shaun the Sheep' and the rest of his flock have been let loose at the Heritage Motor Centre. From the 12 – 27 April the HMC is calling upon families to help round up the flock with an Easter Trail and to have some fun with their 'Shaun the Sheep' activity sheet. There will also be plenty to entertain the whole family with a colouring competition, plus Lego Technic Tuesdays, Wheelie Lego Wednesdays, Shaun the Sheep themed Family Crafts on Thursdays and Mini Movers on the last Friday of the holidays. A stack of treats and prizes can be won throughout the two weeks.
The 'Find the Flock' Easter Trail takes place every day during the holidays where children can help Bitzer and the farmer locate the flock which have escaped and are hiding within the Museum. Children can earn themselves an Easter treat by collecting the codes and finding the missing flock.
Lego Technic Tuesdays takes place on the 15 & 22 April from 10.30am – 3pm enabling children to get hands-on and design, build and test their own Lego Technic machines. Once built, they can then race them along the 'Heritage Track' with the fastest car of the day winning the title 'Champion Designer' as well as a prize.
Wheelie Lego Wednesdays takes place on the 16 & 23 April from 10.30am – 3pm where children can become a HMC engineering apprentice for the day by designing and engineering a Lego vehicle..
Family Craft Thursdays takes place on the 17 & 24 April from 10.30am – 3pm for children to feed their creative flair and make different 'Shaun the Sheep' crafts to take home. These include a pom pom Sheep, a cotton wool Shaun or Timmy and Shaun the Sheep's Land Rover.
Mini Movers is available on Friday 25 April from 10.30am – 3pm featuring drop-in activities aimed at children aged 5 and under with plenty of interactive and enjoyable activities such as story telling tours, Mini Movers - get automotive with Duplo, toy car gathering and Sheep collage.
All activities are FREE of charge but normal Museum entry fees apply: Adults £12, Child £8 (5-16 years) under 5 free, Concessions £10 & Family £34 (2 adults & up to 3 children). Buy one day and get 12 months free if you Gift Aid your entrance. For more information about the HMC, visit heritage-motor-centre.co.uk.