World's blenders to sniff out top dram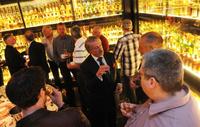 Ten of the world's top Whisky blenders will assemble at The Scotch Whisky Experience this May, as the International Spirits Challenge returns to the Capital.
The five-star attraction will play host to some of Scotland's most revered Whisky blenders, alongside experts from as far afield as Sweden, the United States and Japan.
Taking place during Whisky Month – from the 11 to 15 of May – the International Spirits Challenge is the world's most authoritative and influential drinks competition, with the winners held in high regard by their peers. This year's challenge will see 400 malts from across the globe scrutinized by the expert panel of malt masters.
Susan Morrison, director and general manager of The Scotch Whisky Experience, said: "We feel privileged to be welcoming the International Spirits Challenge back to Edinburgh. This will be the third year we have hosted the Whisky element of the Challenge and there is always a real buzz about the building when it is taking place.
"This year, the Challenge will form part of our Whisky Month celebrations and we look forward to welcoming Whisky experts from across the globe to celebrate Scotland's national drink."
As part of the weeklong event, amateur Scotch drinkers will have the chance to grill these Whisky wizards during An Evening With The Blenders.
On Wednesday 14 May, an exclusive evening reception will offer the chance to chat with the experts over a dram, followed by a tutored tasting of a very special malt. The tasting will be led by Richard Paterson, master blender at Whyte & MacKay and director of The Scotch Whisky Experience, and will be followed by a Q&A session where the blenders will give an insight into their alcoholic alchemy.
John Ramsay, chairman of the International Spirits Challenge and former master blender for Edrington Group, said: "The International Spirits Challenge is an intensive time for all the blenders involved, so An Evening With The Blenders offers the judges the chance to unwind with the people who actually drink their creations.
"The Scotch Whisky Experience has been a great host these past few years and I am looking forward to returning to the attraction again, for the chance to catch-up with old friends, as well as meeting some new ones."
Tickets for the evening are priced at £25 per person. For more information, or to book a ticket, visit scotchwhiskyexperience.co.uk.