Order-books open for all-electric Volkswagen e-Golf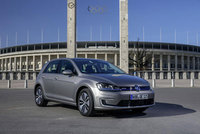 Customers can now place orders for the fully electric Volkswagen e-Golf, which is priced at £25,845 on the road (including £5,000 Government grant or £30,845 RRP). The e-Golf can be ordered from one of 24 Volkswagen EV specialist Retailers across the UK, with the first deliveries expected at the end of June.
Based on the multi-award-winning Golf hatchback, the e-Golf offers the same virtues of practicality, refinement and advanced technology, but with a purely electric drivetrain and no tailpipe emissions.

Like its smaller electric sibling, the e-up!, the e-Golf can be charged from a household three-pin socket using the cable provided. With a standard UK 230-Volt, 2.3 kW supply, this recharges the battery in 13 hours. An optional wallbox for home use provides 3.6 kW supply and can recharge a flat battery in eight hours. The wallbox is currently available at no cost, through British Gas, while all customers of Volkswagen electric products are also eligible for a green electricity tariff through Ecotricity. Through use of the e-Golf's standard combined charging system (CCS) and a DC supply, the battery can be fully recharged (at levels of up to 40 kW) to 80 per cent capacity in just 35 minutes.

An AC electric motor (85 kW / 115 PS, and 270 Nm) provides drive, linked to the front wheels via a single-speed gearbox. The lithium-ion battery is integrated into the Golf's floor and weighs 318 kg. It consists of 264 cells, together rated at 390 Volts and 26.5 kWh.

Acceleration from 0-62 mph takes 10.4 seconds. By comparison the Golf BlueMotion, which is powered by a 1.6-litre turbodiesel engine with 110 PS and 250 Nm, takes 10.5 seconds. Top speed for the e-Golf is 87 mph. Depending on driving style, charge level and ambient conditions, the e-Golf has a range of up to 118 miles.

An optional heat pump helps deliver maximum range in winter. This add-on module for the electric heating and air conditioning uses heat from both ambient air and the vehicle's drive systems, significantly reducing electricity consumption. It can increase the e-Golf's range in cold weather by up to 20 per cent.

As well as a standard driving mode, the e-Golf has two economy profiles: 'Eco' and 'Eco+'. 'Eco' cuts peak power to 70 kW / 95 PS, reduces the output of the air conditioning system and modifies the accelerator response. Top speed is cut to 74 mph and 0-62 mph takes 12.1 seconds. 'Eco+' limits maximum power to 55 kW / 75 PS, torque to 175 Nm, and top speed to 56 mph, while the accelerator response is modified and the air conditioning disabled. In either mode, full performance can be accessed by kicking down on the accelerator pedal, as in a vehicle with a conventional automatic gearbox.

The e-Golf's range can also be influenced by regenerative braking. There are five modes: D, D1, D2, D3 and B. In D, the vehicle coasts without regenerative braking when the accelerator is lifted. In each other mode, lifting off the accelerator pedal provides greater regenerative braking. In D2, D3 and B, the brake lights are activated when the driver's foot is lifted from the accelerator pedal, provided that a predetermined level of deceleration is achieved.

The e-Golf is the first production Volkswagen to feature full LED headlights. These produce brighter light and use less electricity than xenon headlights. Other bespoke exterior design elements include C-shaped LED daytime running lights in the front bumper, a signature blue strip running the width of the radiator grille and into the headlights, and a blue-edged Volkswagen roundel. The interior includes blue stitching on the upholstery, and the option of blue ambient lighting.

In the UK, the e-Golf is available with five doors only, and in a single well-equipped trim level based on the standard Golf SE, with the addition of 2Zone climate control, front and rear parking sensors, e-specific 'Tilleves' alloy wheels and Discover Pro satellite navigation, with an eight-inch colour touchscreen. For the e-Golf the Discover Pro system includes added functionality including a range display, and the option to pre-programme the vehicle's heating or cooling systems. For smartphone users (Android or iOS), the Volkswagen 'Car-Net' app enables many vehicle functions to be controlled remotely, including charging, heating or cooling and more. Three years' subscription to Car Net is included as standard.