Guided walks with the former Chief Forester of the New Forest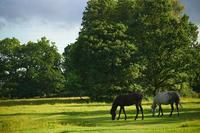 Boutique hotel Cottage Lodge in Brockenhurst has linked up with former Chief Forester Harry Oram, to organise a series of walks and talks to really get under the skin of the New Forest.
Harry is a recently retired Chief Forester who has spent 40 years living and working in the New Forest and spent 20 years associated with the management of the 'Crown Lands' of the forest, working with the various agencies such as the Forestry Commission, the Verderers and Natural England.
The fully-licensed tours last for two hours over two days (four hours total) and are designed to supply a fascinating introduction to the forest and to explain in detail the range of operations, and the roles that the various agencies play to protect and conserve the forest.

The New Forest is an area which includes many internationally rare habitats and therefore has the highest designations for conservation. It is a unique location which combines natural and social history together with the requirements of a population keen to experience a wide range of recreational activities.
Walkers will stay at Cottage Lodge, which has 16 bedrooms, all of which have been individually designed and decorated; some feature hand-made furniture and beds made from fallen New Forest trees.
The property has won numerous awards for its eco credentials; solar panels are located on the roof to produce hot water in the summer (during the winter, water is kept warm via the wood burning stove), low-flow loos and showers reduce water usage and materials including Marmoleum (jute) and bamboo have been used for their green properties.
Rooms have LED lighting and low-energy light bulbs, eco paints and low impact building materials have been used throughout (one room has a bike to power the TV!)
The walks cost £20 per person per day (£40 total) and will take place on 26 and 27 March, 9 and 10 April and 14 and 15 May.
A two night stay at Cottage Lodge to coincide with the walks costs from £60 pp (two sharing, B&B).
For more information, visit cottagelodge.co.uk.