Vauxhall's Mokka proves a compelling mix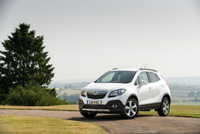 The Vauxhall Mokka continues to ride the wave of success, once again making it to European bestseller just 18 months after its arrival at dealerships.
Vauxhall/Opel already boasts a total of 200,000 orders for its innovative sub-compact SUV. What's more, February 2014 saw the best order intake ever.
Sales have doubled across Europe less than one year after the Mokka hit its sales target of 100,000 in April 2013. It currently comprises some 11.3 per cent of segment share in Europe, making it the No.3 sub-compact SUV. In northern Europe, the Mokka is a front-runner in the Scandinavian region. In both Finland and Norway, it has become the clear segment leader, owning a 24 per cent and 21 per cent segment share respectively. In Germany, the Mokka tops the SUV segment with 12 per cent market share in the first two months of 2014.
The Mokka has been equally well-received in the UK with over 36,000 ordered since launch of which a massive 14,000 were sold last year. The Mokka currently sits at number two in the booming SUV-B segment with a market share of 17 per cent.
"We are delighted with the Mokka's sales performance," said Tim Tozer, Vauxhall's Chairman and Managing Director. "The Mokka was one of the first compact SUV's to be launched and it has been very popular with our customers ever since."
High-level features appeal to wide customer base
The Mokka brings innovation to the SUV segment by making features from higher vehicle classes available to a larger customer base. These include Adaptive Forward Lighting AFL+, ergonomic seats and the second generation of the integrated FlexFix bicycle carrier – all features the Mokka introduced into this SUV segment. With its 4.28 meters in length, it offers plenty of room for five occupants and a higher seating position, making it suitable for diverse daily needs. And its sporty interior as well as exterior design make it ideal for adventure-packed weekends.
Its top-of-the-range technologies ensure optimal driving conditions and safe travel with Electronic Stability Program ESPPlus with Hill Start Assist and Hill Descent Control, the second-generation Opel Eye front camera with forward collision alert as well as enhanced traffic sign recognition and lane departure warning. The Mokka is available with either front or all-wheel drive (AWD). The 4x4 system detects when traction is needed on all four wheels and ensures it is provided at maximum levels.