Why plans for new Alpine ski apartments in Les Carroz really are 'tip-top'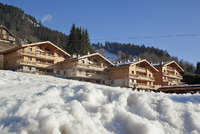 French Alpine developer MGM describes its plans for a brand new residence de tourisme in the ski resort of Les Carroz d'Araches as 'tip-top' for good reason.
Richard Deans, who heads MGM's UK sales office in London's West End explains: 'Our new Residence Leana will occupy the site of the former Hotel Arbaron built about 60 years ago by its former owner who was scorned by local people for identifying the site – at that time the village refuse tip! – as a good location.
'He acquired it and built the hotel whose guests were among the first tourists to visit Les Carroz which subsequently grew to become one of the most popular small family-friendly ski resorts within one of the biggest ski areas in France.'
Now the redundant hotel has been acquired by MGM which is breathing new life into former ski resort hotels whose heyday has passed, thanks to the growing preference among families for self-catering accommodation in their own modern apartments.
In many cases MGM is replaces, rather than converts, hotel buildings and this is the plan in Les Carroz where Residence Leana will comprise seven brand new three- and four-storey chalets together containing 66 apartments in a prominent location overlooking the main village square, Place de l'Ambiance.
The square hosts a typically-French food and produce market every week. Nearby are traditional shops which include a boulangerie (bakery), charcuterie (butcher), wine retailer and pharmacy, as well as a variety of restaurants.
Like MGM's most recent of five earlier developments in Les Carroz – the Residence Chalets de Jouvence – facilities at Residence Leana will include an indoor pool and a children's pool with a sun terrace outside as well as a gym, saunas and hammams. A comfortable reception lounge area will have a log fire in the fireplace during the ski season.
From south-facing terraces outside the apartments, panoramic mountain views will embrace the Massif des Aravis as well as the resort's ski slopes and forests.
'This location is ideally suited to buyers seeking an apartment in a bustling village-centre location with skiing which is easily accessible,' says Richard.
A five-minute walk from the residence are the 'baby slopes' – ideal for beginners – and a drag lift up to the gondola providing a five-minute ride to the pistes of the Grand Massif at an altitude of 1,600 metres. Alternatively a ski bus service links the residence with the gondola.
The local Tourism Office has welcomed MGM's latest development because, of the 15,000 beds available for use by visitors to Les Carroz, only 7,000 currently are available in hotels and residences.
Work on site is getting underway this month and MGM plans to open the new residence for business prior to Christmas next year.
Most of the apartments at Residence Leana are available to buy off-plan on a leaseback basis. Current off-plan prices start at €191,667 for a one-bedroom apartment with a floor area of 38 sq metres rising to €600,000 for a four-bedroom home of 100 sq metres. These prices exclude French VAT at 20 per cent which is waived under the leaseback scheme.
For those who prefer to have unlimited access to their properties in a location which enjoys year-round popularity, MGM has made nine of the apartments in a single chalet available for outright purchase but these already have been snapped up by buyers.
For more information about MGM properties for sale in Les Carroz, visit mgmfrenchproperties.com.