The all-new Mitsubishi Outlander PHEV launches in the UK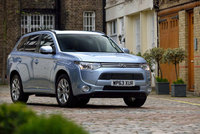 Mitsubishi Motors has announced the arrival of the game changing Outlander Plug-in Hybrid Electric Vehicle (PHEV).

The Mitsubishi Outlander is a car with an impeccable pedigree – and now there is an exciting addition to the range. The Outlander PHEV is, quite simply, the best 4x4 SUV PHEV available in the UK market: the product of years of research and a passion to create a car that can fulfil the promise of a true hybrid.

Representing a hugely exciting opportunity for Mitsubishi Motors, the all-new Outlander PHEV will make a dramatic entrance into Mitsubishi showrooms all across the UK in May although customers can place an order from this week. Eagerly awaited, this SUV is the greenest yet.

The Outlander PHEV is the most practical vehicle that qualifies for the Government's £5,000 Plug-in Car Grant (P-iCG) with 5 seats, 4WD capability and a very large boot. The car is kind to the planet emitting just 44 g/km which means that there is no Vehicle Excise Duty (VED) payable.

Pricing

Mitsubishi Motors is delighted to announce that the Outlander PHEV is the only plug-in hybrid in the UK market that does not carry a price premium for its hybrid technology. In other words customers can choose between a diesel or PHEV Outlander for the same price. The entry-level GX3hOutlander PHEV is on sale for £28,249 after the grant. This is the same price as the Outlander diesel GX3 auto.

There are two other Outlander PHEV variants, GX4h priced at £32,899 and GX4hs which is £34,999 (after the grant). There is no charge for the PHEV equipment, but these two variants are £1,000 more than their diesel equivalent due to added specification.

Benefit in Kind

Outlander PHEV's extremely low emissions mean that the car is perfect for company car drivers. Attracting a benefit in kind rate of 5%, a 40% tax payer will pay just £665 in this tax year, less than some of the smallest cars in the market.
Fuel Efficiency

Put simply, the Outlander PHEV offers environmentally friendly, all –electric operation for everyday use and engine power for longer journeys. The vehicle's unique combination of electric motors and a 2.0 petrol engine give it amazing flexibility in optimising fuel efficiency and environmental performance whilst providing a cruising range of 512 miles.

On electric power only, the Outlander PHEV can travel up to 32.5 miles, enabling it to function entirely as an electric vehicle in most everyday situations – it more than covers the UK's average daily commute of 25 miles.1

The official fuel consumption figure for PHEV is 148mpg, based on industry standards set by European law. Unlike non-hybrid vehicles, it is hard to predict what MPG the vehicle will return in real life. A lot depends on journey length and speed – for instance, for the average daily commute of 25 miles most people will achieve much higher than 148mpg. For longer journeys at higher speeds it may achieve less than 148mpg.

No Compromise

Despite the Outlander PHEV's ultra-low emissions and outstanding fuel economy this vehicle is still a fully competitive SUV with no compromises.

No Compromise on Safety

Careful development of the Outlander PHEV's architecture and safety equipment means that the all-new vehicle achieves an impressive 5 star Euro NCAP safety rating. Super All Wheel Control (S-AWC) is standard on all models along with 7 SRS airbags and Reinforced Impact Safety Evolution (RISE) safety body, so the Mitsubishi Outlander PHEV is fully equipped to protect occupants in the event of a collision.

The range topping GX4hs comes with the advanced e-assist safety system: Lane Departure Warning, Forward Collision Mitigation and clever Adaptive Cruise Control technology.

It also has an Acoustic Vehicle Alerting System (AVAS), which produces an audible warning sound to alert pedestrians when in EV mode. This can be heard whenever the vehicle is in motion, up to a speed of 22mph.

No Compromise on Space and Quality

The Mitsubishi Outlander PHEV offers style and substance. Benefitting from advanced specifications, the 'peaceful' Outlander PHEV has good positioning of sound proofing materials, the exhaust noise has been reduced and extra 'engine room' soundproofing added in order to ensure the vehicle remains as quiet as EV Drive Mode, even when the engine is in use.

Style and substance are also reflected in the interior of the vehicle. A simple, tasteful design with smooth lines made from high-quality materials gives the Outlander PHEV a rich, premium feel.

The crystal fibre-like dashboard 'envelopes' the driver, and there are ergonomic steering wheel controls and high-resolution, easy-to-read instrument displays including a hi-definition LCD multi information display system which provides easy access to a range e-Assist and eco-driving support data, including vehicle energy flow. On the GX4h and GX4hs, the Mitsubishi Multi Communications System also shows this information.

There is certainly no compromise on room with masses on interior cabin space and a 463L volume to the cargo area.

No Compromise on Performance, Ride and Handling

Storing the drive battery under the floor improves safety by lowering the centre of gravity and reducing roll movement, without affecting SUV functionality.

Twin Motors

Smaller, lighter, higher output versions of the permanent magnet synchronous motors used in the i-MiEV are located front and rear. These have a maximum output of 60 kW each and maximum torques of 137 Nm (front) and 195 Nm (rear), and deliver high torque and power from the outset.

Twin Motor 4WD

Leveraging its proven expertise in 4WD control technology, Mitsubishi Motors Corporation (MMC) has developed a new Twin Motor 4WD system that delivers power independently to the front wheels (from the front motor and/or engine) and rear wheels (from the rear motor). The use of motors and absence of mechanical connections such as a propeller shaft mean the Twin Motor 4WD delivers better response and finer control than conventional 4WD systems and reduces friction loss.

Twin Motor 4WD is coupled with MMC's S-AWC (Super-All Wheel Control) integrated vehicle dynamics control system, which combines front- and rear-wheel-drive control and left- and right-wheel-brake control to provide consistent handling and unbeatable stability on the road. Two modes are offered, selectable at the flick of a switch: Normal Mode for ordinary conditions and Lock Mode for enhanced all-terrain performance.

Drive Modes

The Outlander PHEV has three drive modes:

1. EV Drive Mode

EV Drive Mode is an all-electric mode in which the front and rear motors drive the vehicle using only electricity from the drive battery.

2. Series Hybrid Mode

In Series Hybrid Mode, the petrol engine operates as a generator supplying electricity to the electric motors.

3. Parallel Hybrid Mode

The system switches to Parallel Hybrid Mode when the vehicle reaches high speeds. In this mode the high- efficiency petrol engine provides most of the motive power, assisted by the electric motors as required

2.0-litre Petrol Engine

The Outlander PHEV also comes with an efficient 2.0-litre petrol engine. It is fitted with MMC's MIVEC (Mitsubishi Innovative Valve Timing Electronic Control) technology, which keeps the engine in optimal efficiency ranges by continuously varying the timing of the air intake valves according to engine speed in Parallel Hybrid Mode.

Drive Battery

The drive battery is a high-capacity lithium-ion battery developed for the PHEV system based on the technology used in the i-MiEV. It consists of 80 cells housed in a battery pack enclosed in a secure frame, and has a total voltage of 300V and total storage capacity of 12.0 kWh.

Transaxles

Taking advantage of the fact that electric motors require no complex transmission mechanisms, the front and rear transaxles incorporate simple single-speed fixed-reduction gears for smoother travel, free from 'shift shock'. The front transaxle also has a built-in clutch that switches the system to Parallel Drive Mode mainly for engine-powered travel at high speeds.

Regenerative Braking

During deceleration, the motors function as generators so that electricity can be generated to charge the drive battery. The regenerative braking can be increased when the brake pedal is pressed. The strength of regenerative braking is adjustable using the selector lever, which has three strength settings, and a paddle selector on the steering wheel, which offers six strength settings.

No Compromise on Specification

The range will start with a GX3h specification. This has the following key specification items:
18" alloy wheels
Cruise control
Dual-zone climate control air conditioning
Privacy glass
Electric folding/heating mirrors with indicators
Leather steering wheel
Steering wheel audio controls
Bluetooth hands-free

On top of the GX3h, the GX4h has:
Sat-nav with HD seven-inch touchscreen
Wide-beam HID headlamps
Heated front seats/power driver's seat
Reversing camera
Leather seats
DAB radio
Electric sunroof
Power tailgate
Mobile App
Timers to control heating/cooling and charge times

Over the GX4h, the GX4hs has the following items:
Adaptive cruise control
Forward collision mitigation system
Lane departure warning

Mitsubishi Remote Control

The Outlander PHEV can be remotely controlled through specially-designed smartphone or tablet applications, making available a variety of functions, including scheduled charging, pre-air conditioning, and access to information on battery charge and door status (on GX4h and GX4hs). The app to enhance PHEV ownership offers:
Compatible with Android & iOS.
Communicates via a LAN.
Remotely control the climate control.
View the current charge level.
View time left to charge.
Timer settings for charging and climate control.
Access to various vehicle system settings.
No subscription.

An Array of Colours

Keenly anticipated by Mitsubishi's dealer network, not to mention thousands of loyal Mitsubishi owners across the UK, the all-new Outlander PHEV will be ready to order April 1st and will be available in the following colours:
Glacier Blue (Metallic)
Amethyst Black (Metallic)
Titanium Grey (Metallic)
Frost White (Solid)
White Pearl (Pearlescent)

Aftersales

Warranty

The all-new Mitsubishi Outlander PHEV offers a 3-year / unlimited mileage warranty on all ICE components and a 5-year / 100,000 mile warranty on EV components. As with all Mitsubishi models, the Outlander PHEV will come with a pan-European roadside assistance package valid for 3-years. The service interval for the new Outlander PHEV is 12,500 miles/12 months (whichever occurs first) and Mitsubishi's extremely competitive service plan (MSP), covering the first three scheduled services is available for just £500.

Insurance

The all-new Outlander has achieved a very competitive insurance group rating as below:
PHEV GX3h - 26E
PHEV GX4h - 27E
PHEV GX4hs - 24E

Future Proof
Residual values (RV), based on the GX4h over three years/30,000 miles, have been set at 49%.

View From The Top

Managing Director of Mitsubishi Motors in the UK, Lance Bradley, said: "Having the first SUV plug-in hybrid in the UK market that has no premium over its diesel equivalent, has 4x4 capability with an EV range of 32.5 miles, can achieve 148mpg under the right circumstances and has emissions as low as 44g/km, puts Mitsubishi at the forefront of a new era in the automotive industry.

"This vehicle is extraordinary and very different to other hybrids in the market and we are delighted that the range starts from £28,249 but the vehicle has also met the high levels of criteria required to qualify for the Government Plug-in Car Grant. With such low CO2 from 44g/km the Outlander PHEV also benefits from £0

Vehicle Excise Duty.

"And if you are a company car driver, the BIK is just 5%, which is a virtual pay-rise of hundreds of pounds per year.

"Therefore, it will appeal to a wide cross section of private individual and business users, with its exciting combination of innovation, style and technology. It truly is a car without compromise."

In A Nutshell

The new, assertive Outlander PHEV offers a very comforting sense of quiet, protection and safety to its occupants – a quality car of substance, it's more economical, dynamic, safe and has outstanding environmental credentials. With this in mind, the new Outlander PHEV represents a truly segment-leading SUV.