The best waterproof jackets for spring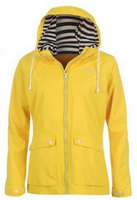 Last week marked the first day of spring and although that means lighter morning and nights it also means that there is a higher chance of rainfall, commonly known as April showers. SportsDirect.com take a look at what styles to look out for in raincoats to help keep dry and protected this season.
Waterproof jackets are a staple for a spring wardrobe and over the years have been designed and tailored to suit individual needs and tastes.
Sporty
For sportsmen and women having a jacket that is suitable for when the showers come is essential so that they can keep on training. However, as they are often unpredictable it is important that the jacket of choice is super lightweight, easy to stuff into a small bag, or tie round the waist, and is breathable to ensure comfort, like the Karrimor XLite running jacket. Having elasticated cuffs and toggles is also a desired quality as they will prevent the rain and wind from seeping through.
Explorer
When looking for a waterproof coat that is suitable for walking or hiking in, it's important that it is both waterproof and breathable, but has a lining and has a thinker shell that that of a sporting raincoat. Three in one jackets, like the Regatta Calter 3 in 1 jacket, are a great option as walkers can store the waterproof in their backpack, and just wear the fleece when it is dry, then slip on the jacket when the rain starts to pour.
Fashionista
In recent years raincoats have been seen up and down the catwalks and have become increasingly stylish. A coat with taped seams, a bold colour and chunky detailing, whether it be pockets, buttons or toggles spruces the practical waterproof and makes it fun and fashionable, like the Regatta Bayeux jacket. For festival fashionistas then a lightweight rain jacket with a funky pattern such as spots and raindrops is essential for showing off a bit of style whilst staying dry, Golddigga have a selection of patterned Pack A Macs that are ideal.
Visit SportsDirect.com for a full selection of waterproof jackets to suit all activities and tastes.