Learn to blog in Africa with Getting Stamped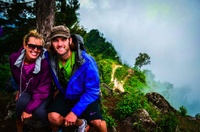 Acacia Africa is offering a more unusual spin on the writer's retreat this May, as Hannah and Adam Lukaszewicz, otherwise known as the Editors of Getting Stamped will be travelling on the tour operator's 43-day Kenya To Cape Town overland expedition. Nominated for a Bloggies Award in 2013 and with a following of over 4,000 fans on Facebook, the popular bloggers are adding Africa to their Round The World Travel trip. The tour is scheduled to depart on 04 May from Nairobi, the route taking them across the wilds of Kenya, Tanzania, Malawi, Zambia, Botswana and Namibia, and ending in Cape Town. Before they head to the continent the couple will also be co-hosting #Africhat on Twitter, the April tweet up focused on the topic of planning for Africa.
Arno Delport, Sales & Marketing Manager at Acacia Africa, comments "Travel blogging is now seen as an alternative career, and the idea of charting a non-stop path across the globe is an attractive prospect for anyone hoping to follow their passion for adventure. A sought after departure for aspiring bloggers, the tour will be an opportunity to discover Africa with a couple who know how to keep it creative on the road. Whether posting, tweeting or generating that perfect shot for Instagram, overlanders can expect to learn a great deal, and Adam is a self-styled cameraman so there will be plenty of DSLR tips. Outside of the glamour associated with kicking back in the world's far flung corners, Getting Stamped will also be able to offer a more realistic take on what it means to blog for the long haul."
Hannah and Adam met eight years ago while finishing their last year of university in Milwaukee, Wisconsin, and as keen backpackers they have already travelled to 20 countries and counting. Avid Nat Geo viewers, Africa is on their list of most anticipated pit stops, the pair recently tuning into Big Cat Week.
The overland expedition will pack in plenty of wildlife action - the Masai Mara game reserve, Ngorongoro Crater and the Serengeti and Etosha national parks listed on the itinerary. Known as Africa's last remaining wetland wilderness, the Okavango Delta is another major highlight, the destination home to four of the Big Five.
While Getting Stamped will not be bungy jumping in Livingstone they are interested in seeing the Victoria Falls from another perspective and there are various options when it comes to viewing the world's largest falling curtain of water, including huey helicopter flights and microflights. Lake Malawi and Zanzibar also feature – Hannah aiming to hold down the beach while Adam gets acquainted with the underwater wildlife.

As with all of Acacia Africa's overland tours there be numerous opportunities to meet Africa's tribes along the way.
Hannah comments "When you think of a safari most people immediately think of the wildlife, but engaging with the locals is important to us. We want to see how people live, and experience their way of life. Spending time in local markets allows you to peer in the heart and soul of a culture so we're really looking forward to exploring Stone Town."
43-day Kenya To Cape Town from £1,795pp + local payment from £991pp including transport, camping accommodation, most meals, and services of a tour leader/driver. Excludes return flight. Departing 04 May.
For more information, visit acacia-africa.com.