The John Muir Way opens in Scotland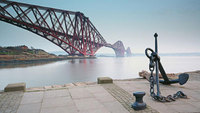 The life and legacy of John Muir, the Scots-born naturalist and founder of America's National Parks, is being celebrated this month with the opening of a new national coast-to-coast pathway across the heart of Scotland.

The new John Muir Way walking trail, opening on 21st April alongside the John Muir Festival commemorating the centenary of his death, stretches 134 miles from Helensburgh in the West to Dunbar in the East.

From the Banks of Loch Lomond to Edinburgh, the tour takes walkers through mountains, lochs, canals and coastal scenery, to see Scotland at its very best. The new John Muir Way can be booked through Macs Adventure, which has just launched an 11-night tour available to book starting any day from 1st May until end end of September.

Prices start from £795 per person which includes 11 nights in hand-picked accommodation in high quality B&Bs, country inns and guesthouses with breakfast included, route notes and maps, luggage transfers from hotel to hotel each day, a pre-departure information pack and 24-7 emergency support.

Neil Lapping, chief adventure officer at Macs Adventure, said: "This will become an iconic trip and we've been quick off the mark to put this on sale as soon as the new route opened. Described by the New York Times as, 'one of the greatest thinkers of America', John Muir's activism was pivotal in preserving some of North America's great parks—Yosemite Valley, Sequoia National Park and other wilderness areas. We are in turn proud to support the work of the John Muir Trust—a not-for profit charity that owns and cares for some of the finest wild areas in the UK."

To book, visit macsadventure.com.