Vauxhall's Big Event is back with £500 free fuel for all customers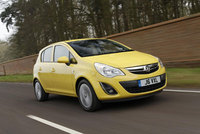 Vauxhall retailers nationwide are hosting The Big Event, on the weekend of Friday 16th May to Monday 19th May, where new car and van customers get £500-worth of free fuel with all purchases.

And if that wasn't enough, Vauxhall is also offering a range of market-leading finance offers in addition to the Big Event offer.

For example, customers can benefit from up to five years 0% APR Flexible Finance and up to £2,000 Vauxhall deposit contribution – with no deposit required by you.

The free fuel offer is even available on hot Vauxhall newcomers including the full-size Cascada convertible, the fashionable ADAM and the Mokka compact SUV.

Vauxhall's £500 free fuel is in addition to its other great offers including 0% APR Flexible Finance. Flexible Finance allows customers to tailor their finance to suit their budgets, putting them in the very best car they can afford.

All customers have to do is choose and specify their new model at vauxhall.co.uk, decide on a deposit, which can be from zero upwards and select any term between 24 and 60 months. In most cases, Vauxhall will even add a deposit contribution of up to £2,000.

Customers can also take advantage of a 2.9% APR representative Flexible Personal Contract Purchase Plan (PCP), available on ADAM at just £99 per month and Mokka at £199 per month.

There's even a newly-launched 0% APR PCP that makes Vauxhall's top-selling Corsa even more affordable starting at just £179 per month with a £179 deposit, with one year's free insurance on either a Corsa Excite or Limited Edition model.

As well as passenger cars, the offer is also open to commercial vehicle customers across Vauxhall's multi-award winning van range including Corsavan, Combo, Vivaro and Movano.

Big Event customers can also get 20% off all Vauxhall Accessories including a vast array of equipment including sat-navs, iPhone/iPad cradles and cargo liners.

"Vauxhall's Big Event gives customers the opportunity to take advantage of a range of fantastic offers and incentives, from helping to cut costs at the fuel pumps to discounts on accessories," said Tim Tozer, Vauxhall's Chairman and Managing Director. "Vauxhall customers can make big savings on new cars and vans including new-to-market models such as Cascada, ADAM and Mokka."

All new Vauxhall models offer peace of mind long after their purchase, thanks to the manufacturer's industry-leading Lifetime Warranty. Available to the first owner of all new Vauxhall cars, the warranty is valid for the lifetime of the vehicle up to a maximum of 100,000 miles.

*£500 including VAT Free Fuel offer applies to car and commercial vehicle orders from 16th to 19th May 2014, which are then registered by 30 June 2014. Exclusions, terms and conditions apply. Refer to vauxhall.co.uk/offers for more details.