Make a date with Henley's Festival Calendar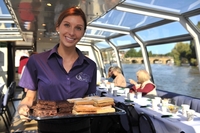 Henley is the town that knows how to throw a great party. The number and variety of festivals is testament to that. Here we look at the main event and festival reasons to visit Henley in 2014 - whether following interests that are sporting, cultural or social.
Henley Women's Regatta – 20 – 22 June 2014
Henley Women's Regatta is the premier rowing regatta for Women in the UK. Over one thousand women compete at the prestigious regatta annually. Crews travel from all around the world to race over the famous Henley Regatta course. With no entrance fees for spectators there is a casual dress code. Spectators can follow races from the beautiful umpires' launches by booking tickets either at the start by Temple Island or in the main enclosure to experience the regatta, and Henley, from a whole new perspective.
Henley Classic Swim – 29 June 2014
The annual 2.1 km race draws up to 700 swimmers to tackle the Henley Royal Regatta course early on a summer's morning. Starting from Temple Island Meadows and finishing just below Henley Bridge, competitors come from all over the UK to celebrate mid-summer, and take the opportunity to swim one of the most beautiful stretches of open water in the world, at the most beautiful time of the day, dawn.
The Royal Regatta – 02 – 06 July 2014
First held in 1839, Henley Royal Regatta is Henley's most famous, and most prestigious, annual event attracting visitors from all over the world. The 5 day event is one of the highlights of the summer sporting calendar and the English social season. Thousands of people watch 200 international standard races between Wednesday and Sunday, including Olympic class crews, famous clubs and renowned schools. Aside from the rowing, Henley Royal Regatta visitors enjoy the unique ambience and facilities within the Enclosures and along the riverbank.
Henley Festival – 09 – 13 July 2014
Henley Festival is a potent mix of music, art, culture, dining and location set in the town's beautiful riverside. A total of 5,000 tickets are available for each night of the black-tie event, which also offers fine dining, comedy shows, art exhibitions and street theatre performers. The 32nd annual festival features Bryan Ferry, Burt Bacharach, Joss Stone, Rebecca Ferguson and The Jacksons on the floating stage. At this truly unique and quintessentially English event expect celebrity chefs' pop-up restaurants, champagne sipped beside the Thames, an armada of twinkling pleasure boats, dance, street theatre, art and sculpture, with traditional fireworks following each evening's performance.
Maison Artisan Deli Fayre – 13 July 2014
Maison Artisan is a deli Fayre showcase of local and British food and drink produce including fresh breads, cheese, truffle oils, olives, pate, chocolate, cake, wine, beer, cider, liqueurs, jams, chutneys, teas and coffee with plenty of opportunities to taste, sample and purchase the products on display in a fun and informal shopping arena.
Thames Traditional Boat Festival – 19 – 20 July 2014
The Rally is a two day display of traditionally built boats, of any age, both powered and unpowered. Around 200 qualifying craft, including many of the famous Dunkirk Little Ships, attend each year. Highlights are the floating Illuminated Parade on Saturday night, sail-pasts of the various boat classes attending, bank-side displays, craft and produce, costumes, and vintage cars and bicycles.
Henley Fringe – 21 – 26 July 2014
This year's festival — the seventh — will for the first time feature films from around the world, including shorts, feature films and animation. Confirmed shows and acts include Comedy on Water, FalconGrange, Tom Rosenthal, The Rudy Vees, Theatre Bugs, Women of an Uncertain Age, Debbie Bridge, Breathe Out Theatre, The Railway Children, Dickens Ghost Stories and Naomi Vallance, with many performers perfecting their material at Henley prior to the Edinburgh Fringe starting a week later.
Rewind Festival – 16 – 17 August 2014
Love the 80s? The annual Rewind festival is a showcase of the decade's most successful bands and artists and takes place at Temple Island Meadows near Henley. As well as the main stage line-up, which this year includes the Boomtown Rats, Holly Johnson, Mike & the Mechanics, Rick Astley and UB40, get your leg warmers out for a roller disco, funfair, kidzone and fireworks. River taxis available to transport people between the festival site and Henley town centre.
Henley disabled regatta – 30 August 2014
The annual Regatta for the Disabled is a fun filled day of boating, rowing or racing on the river. Familiar attractions include: Rivertime - equipped with a ramp and a lift for wheelchairs, electric launches - walk or carry on to stable boats, Dragon Boat Racing and instruction for novices. Other attractions include a climbing wall (takes wheelchairs), Millers Ark animals (sheep, goats and rabbits), live bands and sideshows.
Henley Show – 13 September 2014
Now in its 123rd year and described as 'the best one-day Agricultural Show in the country', attractions include cattle, sheep and poultry, show-jumping and showing classes. Entertainment includes active displays with the likes of steam engines, birds of prey, foraging and live music. Crowd favourites include the Dancing Sheep Show, handmade replicas of royal carriages and interactive food and farming marquee activities where children can learn where their food comes from.
Henley Literary Festival – 29 September – 05 October 2014
Now in its eighth year, and regarded as one of the best literary festivals in the country, Henley Literary Festival is a highly anticipated date in the cultural calendar. The high profile of the attending authors rivals the reputations of Hay, Edinburgh and Cheltenham but the intimacy of the events in this beautiful riverside town gives it a distinctive personality. For seven days the Festival becomes the focus of the town, across a range of venues, creating a buzz that would be impossible to replicate in a larger town or city. The festival covers a wide range of topics including politics, current affairs, fiction, history, food and sport.
Henley Living Advent Calendar – 01 – 24 December 2014
Based on an original idea from Stockholm, the Henley event began in 2011 and, like a children's Advent Calendar, a different window or door opens at 6:15pm promptly each evening for a 15 minute performance to the assembled audience. This can include songs, carols, music, poetry, book excerpts, notes from local history or folklore, sketches or dance, all with a Christmas or winter focus. The Henley Living Advent Calendar won both Towns Alive and Big Society awards in 2013.
For more information, visit henleytowncouncil.gov.uk/visiting.aspx